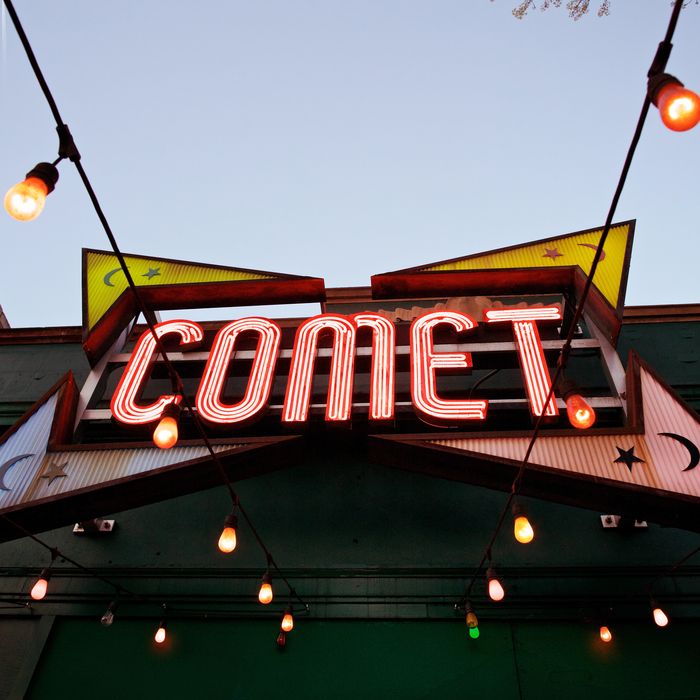 Comet Ping Pong, in Washington D.C.
Photo: Deb Lindsey/The Washington Post/Getty Images
Just before 3 p.m. on Sunday, a gunman carrying an assault rifle was detained by police after entering a popular Washington, D.C., pizza restaurant, Comet Ping Pong. The gunman was reportedly investigating an anti-Clinton conspiracy theory from a fake-news story shared during this year's election.
The gunman has been identified as Edgar Maddison Welch, 28, of Salisbury, North Carolina. He did not attack anyone or make any demands, but there are reports that he pointed his gun at an employee fired into the floor before being apprehended.
Sunday's incident is just the latest chapter in what has been a bizarre and frightening year for the restaurant's owners and employees. Comet Ping Pong is an often-bustling, casual eatery whose ping-pong tables have made it popular with families. It was relatively unknown outside the capital, however, until fake-news stories started doing the rounds on conservative websites claiming Comet was a front for a child-prostitution ring that was run by Hillary Clinton and her aides.
According to police, Welch admitted in an interview that he had come to the restaurant to "self-investigate" the baseless story.
During the campaign, as the conspiracy theories about Comet Ping Pong became more prevalent, the restaurant's owners reached out to law enforcement after they and their employees started being subjected to online harassment, receiving hundreds of threats. In response to the threats, even Reddit decided to shut down its "pizzagate" thread.
Worse yet, as the Washington Post reports, the threats and harassment still haven't ended, and have now even spread to neighboring businesses.
Last weekend, Matt Carr, the owner of a nearby market and coffee shop called the Little Red Fox, started receiving threatening phone calls tied to the conspiracy theory. Thirty or 40 of the calls came in — including one from a caller who said he wanted to put the staff in front of a firing squad — before they stopped answering calls from blocked numbers.
Among the bizarre accusations: "There's some old painted-over symbol on the marquee that they claim is an international symbol of pedophilia and that there are underground tunnels," said Carr, who added that there was also a YouTube video referring to him by name that has almost 100,000 views.
If anything, Sunday's gunman incident now seems to have encouraged the "pizzagate" fanatics, whether they be real conspiracy theorists, or just trolls. After reporting on the story on Sunday, Washington Post reporters were quickly made the target of threats themselves, and they aren't the only ones who seemed to have poked the conspiracy theorists' nest:
"From this insane, fabricated conspiracy theory, we've come under constant assault," said Comet's owner James Alefantis, 42, back when the stories started circulating.
"This was our worst fear," added Carr on Sunday, "that someone would read all this and come to the block with a gun. And today it happened."
An earlier version of this post incorrectly stated that Donald Trump's nominee for national security adviser, Michael Flynn, had tweeted out an article related to the "pizzagate" conspiracy theory. In fact, he had shared an article about a different pedophilia-related anti-Clinton conspiracy theory. We regret the error. This post has also been updated throughout to reflect additionally available information.