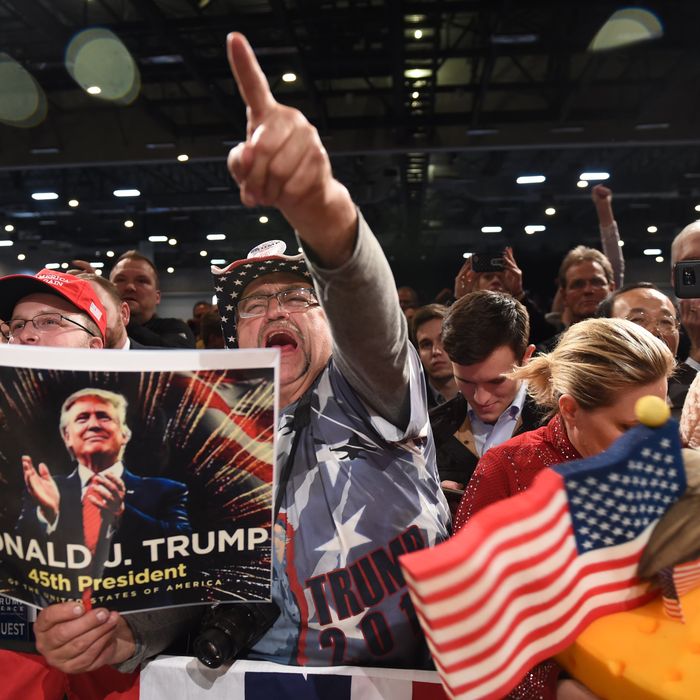 The winner, but not actually number one.
Photo: Timothy A. Clary/AFP/Getty Images
Even though Hillary Clinton won the popular vote in the 2016 election by 2.8 million votes and counting, a new poll indicates that more than half of Republicans believe it was, in fact, President-elect Donald Trump who won the popular vote. The Qualtrics poll, published on Sunday in the Washington Post, indicates that 29 percent of voters believe that Trump won the popular vote as well as the Electoral College, but that includes some 52 percent of Republicans overall and 60 percent of Republicans who don't have any college education. In comparison, only 24 percent of independent voters and 7 percent of Democrats incorrectly believe that Trump won the popular vote.
Then again, you can count Donald Trump among the people who think he won the popular vote as well, having publicly and falsely declared that Clinton's popular-vote total includes millions of illegal and invalid votes, in addition to falsely insisting that his victory in the Electoral College, ranked 46 out of 58 elections, was an historic landslide. Whether the Republican voters reached in the Qualtrics survey are getting their facts from Trump, unconsciously lining up their beliefs with their chosen candidate, or just not paying attention, isn't clear. It's also worth noting that partisan bias wasn't a factor in other survey questions that dealt with factual understanding.
A Pew poll out earlier this month also indicated a partisan divide regarding knowledge of who won the popular vote, with 68 percent of Republican voters knowing that Clinton won the popular vote, compared with 81 percent of Democrats. (Nineteen percent of Republican respondents thought Trump won the popular vote.) The same survey also found that only 58 percent of voters could correctly name the 2016 candidate who won the Electoral College, the popular vote, and their home state.
All told, nearly 54 percent of American voters opted for a candidate other than Donald Trump on Election Day, and Clinton bested Trump's total number of votes by 2.1 percent.