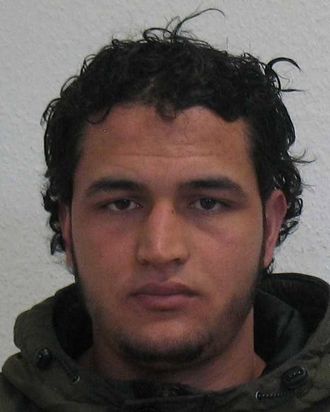 Anis Amri.
Photo: Bundeskriminalamt
The manhunt for Anis Amri, suspected of being the terrorist who plowed a tractor-trailer through Berlin's Christmas market, has escalated as police conduct raids across Berlin. But Amri has so far evaded authorities, and he remains at large almost three days after the bloody rampage that killed 12 and injured nearly 50 others. There is a 100,000 euro reward for information leading to his capture. Officials warn that that Amri is likely armed and dangerous.
The evidence against Amri is mounting after police first found a wallet and identification papers belonging to the 24-year-old Tunisian man under the bloodied seats of the truck turned murder weapon. Police say they have now found Amri's fingerprints in the front cab of the vehicle, tying him more directly to the attack.
After a false arrest shortly after the rampage, the discovery that Amri likely carried out the attack was a gut-punch to anti-terror officials. Amri (he also had about six aliases, says CBS News) was on the intelligence services' radar in both Germany and the United States because of his alleged terror ties and suspicion that he could be planning some sort of attack. He also should not have been in Germany, or Europe — the German government rejected his application for asylum in June 2016 and issued a deportation order. (Amri arrived in Germany in July 2015, though may have been in Italy since 2012.) He was in custody at some point — he apparently had forged paperwork — but, for unclear reasons, he was released. Even more alarming, his deportation from Germany had been delayed because he lacked a Tunisian passport, and Tunisia wouldn't accept him back without the proper documents. The Washington Post reports that Tunisian finally issued his passport Wednesday — almost two days after the attack he's suspected of carrying out.
The full details of when, and how, Amri came under authorities' radar is still not clear, but, right now, there appear to have been multiple red flags at least since his arrival in Germany, landing him on the terror watch list in January, according to the Guardian. He reportedly first caught officials' attention while in North Rhine-Westphalia, say German officials, when according to Reuters, the government put him under surveillance. Authorities suspected that he might have been trying to recruit people for an attack, and was plotting a burglary to get money to purchase weapons from contacts in France. Amri also allegedly made contact around that time with Abu Walaa, a radical Islamic preacher at a mosque a few hours outside Berlin, who has been called "IS's number one in Germany." Walaa (real name: Ahmad Abdulaziz Abdullah) was arrested in November in an anti-terror raid on charges that he was recruiting ISIS fighters.
Amri relocated to Berlin sometime in February, and surveillance continued until it was reportedly dropped sometime in September, though it's not really clear why. Meanwhile, over the summer — just around the the time Germany rejected Amri's asylum application — the United States added Amri to its no-fly list. According to the New York Times, U.S. intelligence picked him out on the internet, where he browsed for bomb-making instructions. He also had made contact with known ISIS members through a messaging app.
These revelations have heightened criticism of German law enforcement, and wedged a deeper divide on questions over Germany's refugee policies under Chancellor Angela Merkel. Most migrants and refugees didn't want to end their trek to Europe until they could make it to Germany, where the economic prospects trumped those in many southern EU states. Germany, in turn, welcomed about 1 million migrants and refugees, a decision that has strained tensions over terror fears and given rise to a right-wing backlash against Merkel. It's also a logistical issue: Accepting 1 million people and processing hundreds of thousands of asylum applications created a massive backlog. Germany has vowed to speed up the processing of asylum applications, and passed laws to do just that, but the deportation process remains slow, and as Amri's case seems to show, bureaucratic challenges leave many cracks to slip through. And the question of why Amri, pending his deportation, was released remains unanswered at this point — though it seems Germany is suffering from the same intelligence challenges that have plagued U.S. and other European officials when it comes to preventing attacks even by those they've identified as potential threats.
But still the hunt for Amri continues. Police have raided an apartment where he's believed to have stayed, and a few other sites in Berlin. Local media reported that four people had been arrested in connection with Amri, but German officials denied that report.