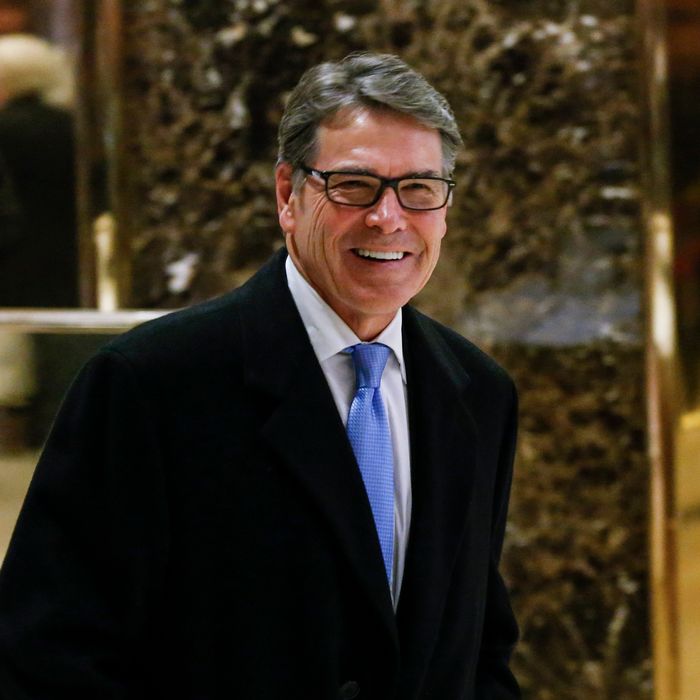 And yet, somehow, there's no Trump administration job for Chris Christie.
Photo: KENA BETANCUR/AFP/Getty Images
Donald Trump spent weeks deliberating over whom to select for secretary of State, but with some of the less prominent Cabinet positions it seems like he's going for the most ironic pick possible. This month, Trump picked a fast-food CEO who's discussed the benefits of replacing human workers with robots to head the Labor Department and a climate-change denier suing the Environmental Protection Agency to lead that agency. Now the president-elect has reportedly settled on Rick Perry, who's mainly known on the national stage for forgetting that he wanted to abolish the Energy Department, for Energy secretary.
The former Texas governor and two-time presidential candidate delivered one of the most memorable debate gaffes in recent years when he forgot the name of the third government agency he'd eliminate. Here's his "oops"moment from 2012:
When he ran again in 2016, Perry made a passionate attack against Trump, saying, "Let no one be mistaken: Donald Trump's candidacy is a cancer on conservatism and it must be clearly diagnosed, excised, and discarded." However, unlike Mitt Romney, who continued to oppose Trump throughout the election, Perry became a Trump supporter once it became clear that he would be the GOP nominee.
Now sources tell CBS News and NBC News that Perry is set to serve that "cancer" by leading the department he couldn't name — but that's not the only reason his selection, if true, is confounding. The Energy Department is responsible for setting policies on emerging energy technologies and the handling of nuclear material. Two scientists served as Energy secretary under President Obama: One is a Nobel-prize-winning professor of physics and molecular and cellular biology, and the other is a nuclear physicist. Perry is a climate-change denier, who has described the issue as a "contrived phony mess."
Perry also serves on the board of Energy Transfer Partners, the company whose Dakota Access Pipeline project is being protested over its environmental impact and threat to Native American lands. The U.S. Army Corps of Engineers recently denied a permit for the pipeline's current route, but the Trump administration is likely to reverse that decision.

If confirmed, Rick Perry will be the first Dancing With the Stars contestant turned Energy secretary.