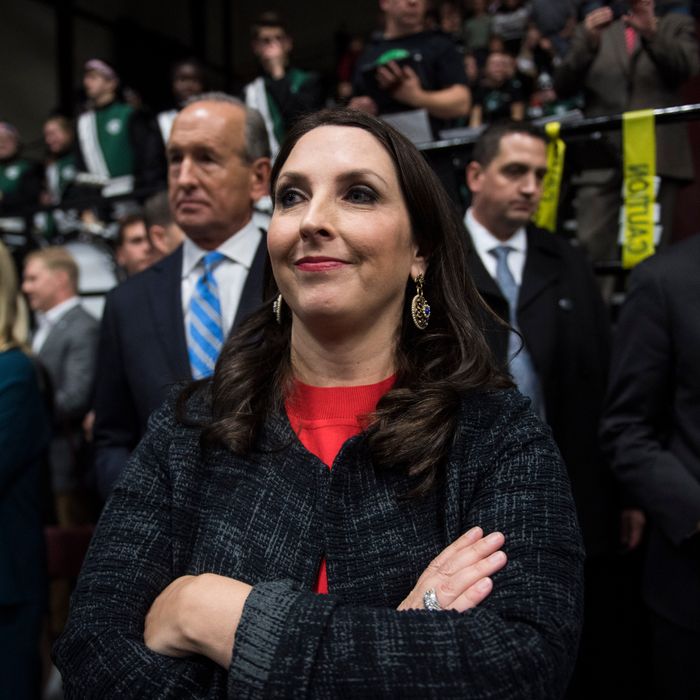 Ronna Romney McDaniel: future RNC chair, power poser.
Photo: The Washington Post/The Washington Post/Getty Images
On Wednesday, Donald Trump announced his choice for the next chair of the Republican National Committee: Michigan GOP chairwoman — and Mitt Romney's niece — Ronna Romney McDaniel. Trump's choice represents a reward for loyalty and a victory for the RNC's current chair, Reince Priebus, who is set to become Trump's chief of staff and who has been an outspoken ally of McDaniel.
McDaniel remained a steadfast supporter of the president-elect, even when her better-known uncle turned against him publicly. She helped oversee the Trump campaign in Michigan and is widely credited with helping him carry the state, which proved vital to him winning the White House. She will be the second woman to helm the RNC.
A win for Priebus was something of a defeat for Vice-President-elect Mike Pence, who had been pushing for his adviser Nick Ayers to assume the role of party chair. It was also yet another humiliation for Chris Christie, who was briefly favored for the top spot.
By precedent, the incoming president gets to name the head of his party, but technically the RNC will have to vote to confirm his choice when the sitting chairman steps down next year.
In his statement on Wednesday Trump sang McDaniel's praises, saying, "Ronna has been extremely loyal to our movement and her efforts were critical to our tremendous victory in Michigan, and I know she will bring the same passion to the Republican National Committee."