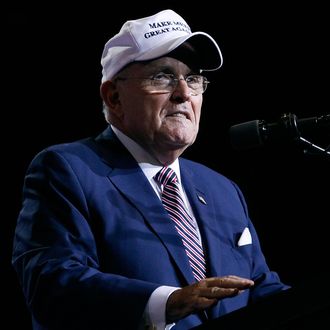 Bye, Rudy.
Photo: Ralph Freso/Getty Images
This week, Donald Trump picked a climate denialist to lead the Environmental Protection Agency, and tapped a businessman — whose company has repeatedly violated workers' rights — to head the Labor Department.
These moves followed the appointment of a man too racist to be confirmed as a federal judge in 1986 to lead the Justice Department (and, thus, to oversee the enforcement of federal civil-rights law), as well as the selection of a retired neurosurgeon who thinks the Fair Housing Act is "communist" as Secretary of Housing and Urban Development.
As liberals stomached these bitter pills, fear of the final "it would be funny if it weren't vomit-inducingly scary" appointment loomed over their heads — what half-psychotic misanthrope would Trump make America's chief diplomat?
On Friday, liberals were able to scratch one such boogeyman off their list: Rudy Giuliani has removed himself from consideration for secretary of State.
"Rudy Giuliani is an extraordinarily talented and patriotic American. I will always be appreciative of his 24/7 dedication to our campaign after I won the primaries and for his extremely wise counsel," Trump wrote in a statement. "He is and continues to be a close personal friend, and as appropriate, I will call upon him for advice and can see an important place for him in the administration at a later date."
According to Politico, Giuliani declared his disinterest in any cabinet position on November 29. It's unclear what prompted the former New York mayor to remove his hat from the ring, after publicly campaigning for the State Department post. Granted, Giuliani's consulting firm presents a vast array of potential conflicts of interest. But the Trump administration has not distinguished itself by how carefully it avoids the appearance of corruption.
"This is not about me; it is about what is best for the country and the new administration," Giuliani said Friday, according to Politico. "Before I joined the campaign I was very involved and fulfilled by my work with my law firm and consulting firm, and I will continue that work with even more enthusiasm. From the vantage point of the private sector, I look forward to helping the President-elect in any way he deems necessary and appropriate."
Now, liberals can spend their weekends worrying about John Bolton.