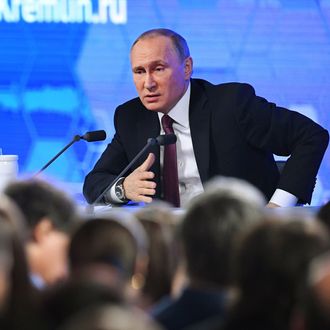 Photo: Natalia Kolesnikova/AFP/Getty Images
Vladimir Putin has apparently decided to turn the other cheek in hopes of turning U.S.-Russia relations around once Donald Trump moves into the White House.
On Thursday, in response to Russia's alleged meddling in the 2016 election, the Obama administration imposed a series of sanctions on Putin's government — including the expulsion of 35 Russian diplomats from the United States, the closing of homes in Maryland and New York used for Russian intelligence operations, and the sanctioning of two of Russia's most important intelligence organizations, the GRU and the FSB.
Russia signaled that it would respond by barring U.S. and foreign nationals from attending the Anglo-American School of Moscow, a move that would cause headaches for the families of U.S., British, and Canadian embassy personnel in the Russian capital. Making matters worse for American diplomats, the order also revoked their access to the U.S. embassy's vacation house in Serebryany Bor.
And then Russian Foreign Minister Sergei Lavrov suggested that his nation was not content to deny U.S. diplomats access to schools and weekend dachas until they self-deport — instead, he called for observing diplomatic tradition and expelling 35 U.S. diplomats from Russia.
But early Friday morning, Putin indicated that he had decided to reject all of these suggestions (which very well may have been intended as the setup for Vladimir's gesture of magnanimity).
"We won't create problems for American diplomats," Putin said in a statement, stipulating that Russia reserved the right to punish U.S. diplomats in the future. But he suggested that he wouldn't be taking such retribution until he knew whether America's present hostility toward his regime would dissipate once president Obama leaves the Oval Office: Putin said that he would "plan further steps for restoring the Russian-American relationship based on the policies enacted by the administration of President Donald Trump."
Lower-level Russian officials carried a similar message: The Kremlin would not punish Trump for his predecessor's sins.
"Countermeasures, which are typically mandatory, should be weighted in this case, considering the known circumstances of the transitional period and the possible response of the U.S. president-elect," Konstantin Kosachyov, chairman of the foreign affairs committee of Russia's upper house of parliament, told the Washington Post.
Russian Prime Minister Dmitry Medvedev expressed his disappointment in the Obama administration on Friday, before telling it to "rest in peace."
Russia's embassy in Britain conveyed this message in meme form.
Let's just hope that as geopolitics grow increasingly unpredictable and scary, more diplomats choose to express themselves via cute animal pics.

This post has been updated throughout.