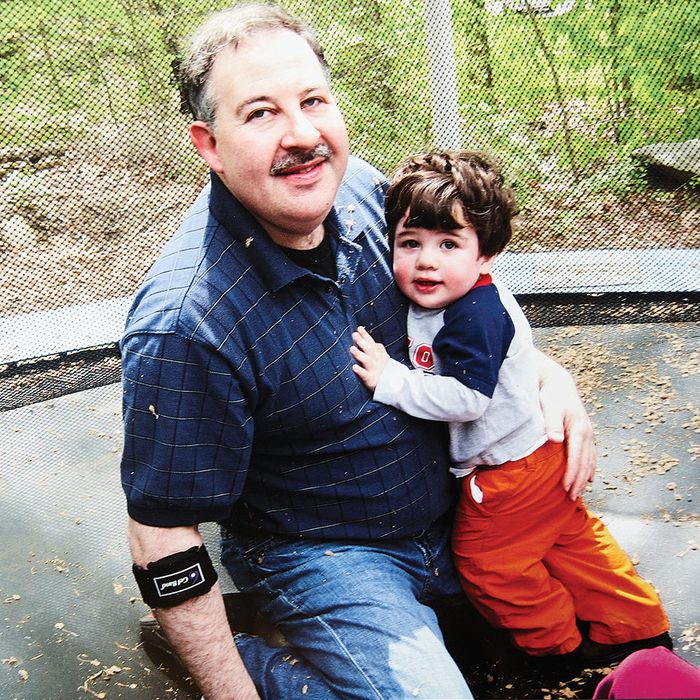 Photo: Courtesy of Lenny Pozner
Today marks the anniversary of the massacre at Sandy Hook Elementary School, a tragedy that comes with a number of horrifying superlatives: the deadliest school shooting in U.S. history, the third-deadliest shooting of any kind, and the first major American tragedy subjected to the full force of the internet's conspiratorial machinery in real time.
Four years on, the genuinely crackpot notion that the attack was a staged hoax — that no one died — has persisted, and the harassment of victims and their families in the name of investigating the idea shows little sign of abating. In the past month, a 57-year-old Florida woman named Lucy Richards was indicted on charges of sending death threats to Lenny Pozner, whose son Noah was killed at Sandy Hook, and a hoaxer who lives in New York City was arrested on similar charges. Pozner, whom I wrote about this past summer, has devoted the last several years of his life to fighting Sandy Hook hoaxers like Richards and Wolfgang Halbig, a Florida man who has relentlessly pestered the town and its families for further proof that their children actually died. Last week, Halbig told me that he had decided to move to Newtown for six months, in order to further his investigation, and later sent an email to me and many others with his travel itinerary. On Facebook, he said he planned to be there for today's moment of silence honoring the 26 murdered children and adults. Several Newtown residents told me that if Halbig does show up, they have plans for him, too.
Conspiracy theories, in the age of Trump, have moved from the fringes of our culture to the center of it. The president-elect is not a hardened conspiracy theorist, but appears to be something even more insidious: someone who wields conspiracies to his benefit, discarding them when they no longer serve his purpose but never seeing any need to make a principled stand against misinformation that doesn't work to his benefit. During the Republican primary, a locally prominent Florida preacher named Carl Gallups, who had repeatedly called Sandy Hook a fabrication, introduced Trump at a rally in Pensacola. The campaign published a press release proudly announcing the endorsement, but when Media Matters and the Trace reported Gallups's views on Sandy Hook, the campaign, which was leading Florida polls by a wide margin, deemed Gallups's support expendable and quickly retracted its praise. "The campaign was not aware of this individual's personal views, which we do not share or support," Trump spokesperson Hope Hicks said in a statement. And yet Trump has embraced Alex Jones, the conspiracy-mongering founder of InfoWars, of whom Trump declared during an appearance on Jones's radio show, "Your reputation is amazing. I will not let you down." Gallups wasn't worth the trouble, but Jones and his millions of viewers apparently were, and still are. Jones says that Trump called to thank him after the election.
We have traditionally been able to depend on our leaders to refute and reject conspiratorial thinking, but the president-elect has shown little sign of tempering his embrace of conspiracies when they prove beneficial. Traditional journalism can bring sympathy for the victims among the already sympathetic, but doesn't seem capable of doing much to counter the fringes of conspiratorial thinking: As soon as my piece was published, it immediately became part of the conspiracy itself, as hoaxers took to the comments section and my email inbox insisting that I was covering up the truth just like the rest of the media. Lenny Pozner began his campaign with patient person-to-person outreach, reasoning with commenters on message boards, answering questions, and converting a number of people who weren't hardened hoaxers, but that strategy has its obvious limitations.
Pozner and others have since taken to inflicting real-world consequences on the most egregious hoaxers, mostly online. Pozner has removed hundreds of YouTube videos, blog posts, and even entire websites by patiently filing a variety of complaints, most often copyright requests against sites who use a family photo of his son without his permission. Pozner said that since Trump's election it seems that the hoaxer movement has been "emboldened." While Alex Jones largely dropped Sandy Hook after Pozner removed a Sandy Hook–related video from his site last year — among hardened Sandy Hook hoaxers, Jones actually is viewed as a traitor who abandoned the cause — since Trump's election, Jones has begun talking about it again. Meanwhile, the internet's gatekeepers continue to respond to the problem haltingly, seemingly uncertain of what exactly they should be doing. "My hatred for Google and YouTube and Facebook has increased 1,000 percent since you and I spoke last," Pozner told me last week. "They are the ones who cause me all the stress when I try to take the ugliness down."
In the face of most criticisms, the tech world has up to now fallen back on an ethos of unrestrained freedom — that people have a right to say and do most anything they please, and that the purpose of technology is here to allow them to do things that they've always wanted but haven't had the means. That seemingly noble goal has allowed Silicon Valley to avoid seriously considering the negative impacts of the otherwise liberating systems they create. There were Columbine conspiracy theorists, too, but in the early days of the internet, there was nowhere for them to gather. Now, there are services cropping up specifically to aid the spread of conspiracy theories: A number of white-supremacist figures have moved from Twitter, which had begun kicking some of them off, to Gab, a service that claims it won't ban much of anything shy of posting child pornography or threatening terrorism, so users can feel free to promote the Sandy Hook hoax, along with other conspiracies, with impunity and without evidence. Last month, when Pozner finally convinced a hosting service to drop a particular virulent conspiracy-theory site — after filing 20 separate complaints — the site received an offer of help from an outfit called "Tin Foil Web Design," which identifies as a collective of web designers and marketing strategists "who long ago took the red pill." (Its owners declined to comment, saying they do not give interviews to "pressistutes.")
While Pozner is relieved that the issue is getting more attention, he doesn't see it getting better in the near term, and believes wholesale changes, perhaps even legal ones, may be necessary. "There are no rules," Pozner said, of life on the internet. "At some point we're all gonna have to lose some rights so the internet can be more manageable, or it's just gonna be a crazy place." Doing so is complicated — how to distinguish between fake news, conspiracy theories that become defamatory or threatening, and honest Woodwardian and Bernsteinian investigation? — and may not be possible to parse with an algorithm. It turns out that some of humanity's worst impulses might just need humans to solve them.
A first step might be to recognize that while the vast majority of people are not delusional enough to show up at a pizzeria with a gun, or visit grieving families on the anniversary of their children's murder, the problem of truthless speculation has become much wider spread than we'd care to acknowledge. Kim Snyder, who directed the recent documentary Newtown, told me recently that despite generally glowing reviews, two-thirds of the citizen ratings on her film's IMDb page are one-star reviews, almost all of them accompanied by hoaxer rants. Those people are the extreme, willing to devote actual time and energy to smearing anything and anyone related to Sandy Hook. But Snyder had also met a young graphic designer with a nose ring at a screening in Beaver Creek, Colorado, who sat through 85 minutes of Newtown residents pouring out their grief only to walk up to Snyder afterward and ask if there was any truth to rumors she had heard about the hoax. Snyder had a similar experience at another screening in Martha's Vineyard.
Since my story on Pozner came out, I've heard this story dozens of times from people who have had an otherwise well-educated and thoughtful friend or family member who has shocked them by admitting that they weren't sure Sandy Hook happened. "I've been saying it from the beginning," Pozner said. "The hoax thing is like a brush fire. It hasn't been contained, and we can't just leave it alone because it will keep burning, and it will eventually show up and it will burn through your town." When I joined Wolfgang Halbig on one of his investigatory trips to Newtown this summer, I watched as a woman recognized Halbig from across the street, then started walking toward him. I expected an angry confrontation — several Newtown residents had relayed dark fantasies about what they would do if they found themselves in Halbig's presence — but instead the woman shook Halbig's hand and thanked him. Later, she told me that she had moved to Newtown after the shooting, with her husband and kids. The woman, who begged me not to disclose her name, now lives less than a minute from the school, and knew people who had lost children, but still wasn't sure about the whole thing. "I think something happened that is being covered up," she said. Rather than believe the lived experience of her neighbors' grief, she was more convinced by stuff she had read on the internet.