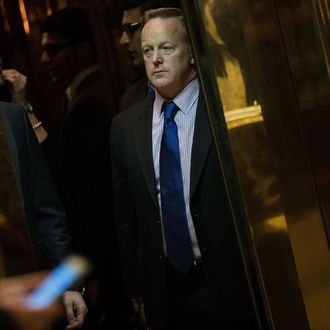 Trump spices things up.
Photo: Drew Angerer/Getty Images
Sean Spicer has won the honor of explaining to the media the meaning of Donald Trump's tweets. The former Republican National Committee communications director has been tapped to serve as White House press secretary, the Trump transition team announced Thursday.
Spicer will be joined on the White House communications team by Trump campaign vets Jason Miller and Hope Hicks, who will serve as communications director and director of strategic communications, respectively.
Trump preferred Kellyanne Conway, his former campaign manager and newly announced White House counselor, to Spicer, the New York Times reports. And even though Trump reportedly wanted a woman in the highly visible role of press secretary, he rejected the choices of right-wing radio host Laura Ingraham and Fox News host Kimberly Guilfoyle because they "could have signaled an even more hostile approach to the press."
Not that Spicer hasn't had his own tense moments with the media. In October, he accused The Weekly Standard of making up a quote in which he said he wasn't sure if grabbing genitals was sexual assault. When the audio of his quote was released, he backtracked.
Spicer's most absurd moment from the campaign, though, came when he defended Melania Trump from accusations that she plagiarized Michelle Obama by invoking Kid Rock, House of Pain, and My Little Pony.