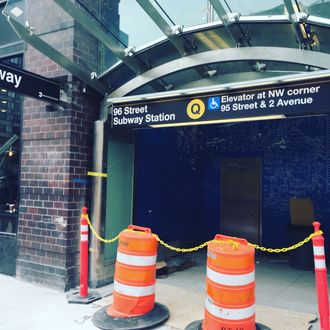 The signs are there.
Photo: Jen Kirby
MTA chairman Thomas Prendergast said Monday he was "cautiously optimistic" that the Second Avenue Subway would meet its December 31 deadline. That's less than three weeks away.
Prendergast delivered the hopeful words at an MTA board update on the long-, long-, long-awaited infrastructure project. Construction is done, but the MTA still needs to complete some key tests, which the agency estimates will be finished up by December 23, reports the New York Times. And that, for those who are counting, leaves just a bit more than week to get that subway rolling.

Independent engineer Kent Haggas — who warned the board in October that crews needed to "ramp up" efforts if the agency wanted to have a shot at meeting its 2016 deadline — indicated that the agency took his admonitions seriously, and the MTA's work has paid off. "I feel it's now on track to finish before the end of the year," Haggas said.
Prendergast also said crews will be working to fix the aboveground situation along Second Avenue on the Upper East Side, which remains a maze of construction under whose tyranny some residents and businesses have lived for the better part of a decade.
Governor Andrew Cuomo, who toured two of the stations over the weekend, said in a radio interview Sunday: "We have a few weeks, and if I had to bet … and it was even money, I would bet that we make it."
And now for the caveat, despite all this relatively rosy news: The MTA has not set a public date for the subway's grand opening. So no guarantees yet — and what's a few days or weeks when New York has been waiting nearly 100 years?