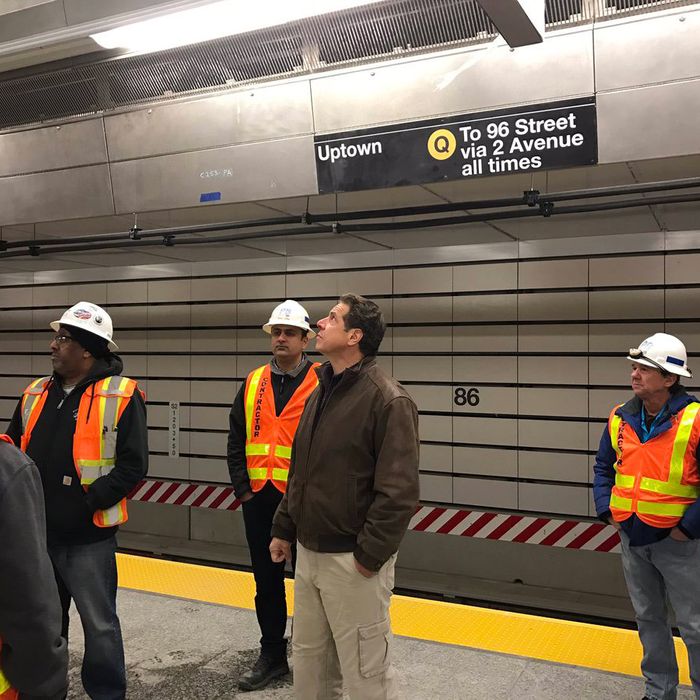 Please don't let me be wrong about this.
Photo: Governor Andrew Cuomo's Office
It's finally happening. The MTA has confirmed what New York governor Andrew Cuomo foretold: the Second Avenue subway will open to the public on January 1, just meeting the MTA's deadline. The Q will make its first departure from the brand-new 96th Street station at noon on New Year's Day. Service will run from 6 a.m. to 10 p.m. during that first week; overnight service will start up January 9.
MTA chairperson Thomas Prendergast made it official Monday, reports the New York Times. The all-clear from the agency's head honcho backs up a bullish Cuomo, who told the New York Daily News after a tour of the 86th Street station that the project would be complete by the year's end. "We believe in the team," the governor said, "and that's why we're saying we're going to open Jan. 1. It's a leap of faith, but I'm willing to take that leap of faith."
And here's more evidence:
Prendergast had said at the MTA board meeting last week that the agency was "cautiously optimistic" that Phase 1 of the nearly 100-year-old infrastructure project would be complete by 2017. Crews are furiously conducting critical system tests, which are scheduled to wrap up just before Christmas Eve — down to the wire, in other words. And perhaps in the spirit of peace and goodwill, Cuomo has extended an invite to Mayor Bill de Blasio to join the christening of the Second Avenue line. "The mayor," Cuomo said, "you are invited."
This post has been updated with additional details about the Second Avenue line's opening.