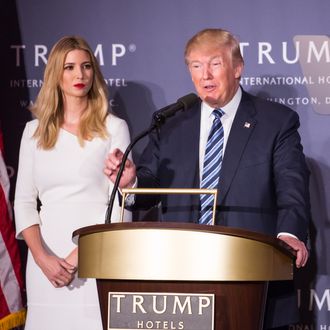 Surprise!
Photo: Cheriss May/NurPhoto via Getty Images
Considering that Donald Trump recently declared, "The law's totally on my side, the president can't have a conflict of interest," his claim last week that he will be leaving his business for the good of the country seemed doubtful. It's still unclear what he plans to announce at his December 15 press conference, but it's looking even more unlikely that he will eliminate his tremendous business conflicts (which, to be fair, is incredibly difficult when you've scrawled your name across buildings all over the world).
Nothing has been finalized, but sources tell the New York Times that Trump is considering keeping a stake in his business and ignoring calls to divest. Instead he's exploring what one person briefed on the discussions called a "legal structure" that will separate him from the Trump Organization, while his two adult sons operate the real-estate company.
And what of Ivanka Trump, who the president-elect once said would run his company as part of a "blind trust," though that is not how a blind trust works? Now she is said to be taking a leave of absence from the Trump Organization as well (she and her brothers are currently executive vice-presidents). Ivanka is also trying to figure out how to step away from her own brands, though, like her father, she named them after herself. She's reportedly planning to hire a president to run the company's day-to-day operations.
That will free up Ivanka to continue meeting with world leaders and advocating for issues she's personally interested in, like child care. It also suggests, as she's hinted, that she and her husband, Jared Kushner, will be relocating to D.C. so he can take a job in the White House (which may be illegal).
That's a smart move. Trump just appointed a climate-change denier to helm the EPA, so America's top environmental advocate has her work cut out for her.