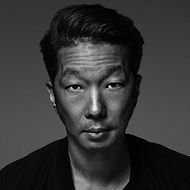 It's safe to say Squarespace's Chief Creative Officer David Lee knows a thing or two about the makings of a solid website. Lee sits at the helm of where design, marketing, and product intersect at the web publishing platform powerhouse, which has allowed millions to create websites since its 2004 launch.
Because the web is an ever-evolving place and a pleasant (or not-so-pleasant) user experience can make or break a personal brand, we sat down with Lee to chat best practices and common mistakes to avoid. Consider this a gift to the internet at large.
Why do you need a website, and what makes for a great website? When it comes to the makings of a great website, tell us about some of the most effective ways you've seen Squarespace users implement these tactics.
We believe that everyone in the world should own a piece of the World Wide Web. Owning your own domain is foundational and permanent — think of it as owning a piece of online real estate. New social media platforms will come and go, new apps may rise and fall, but your ownership of your piece of the web is forever. Once you've laid claim to your domain, you can build anything — whether it's an online store, a portfolio, or a blog — and best of all, no one can tell you what to do with your online property. You can curate precisely how you want to be represented.
To that end, great websites don't necessarily start and end with design, but rather with a few other details that often go overlooked. Here are three important things to keep in mind:
1. Buy a unique domain that represents who you are. Your domain is your digital postal code. It's your address, and most importantly, it's what others will share. With more top-level domains available than ever, it's important to get creative with how you name your domain, as it'll make it more memorable. That said, you should buy some of the more obvious choices as well to ensure that potential visitors are always being directed and redirected your way.
Example: When my wife and I were considering names for our daughter, we wanted to ensure that her domain would be available, too. It wasn't until we secured romyadalee.com that we decided upon her name – that's how important having your online identity is today. What follows "www" is the purest form of your online presence, and it's crucial to stake your claim before it's gone.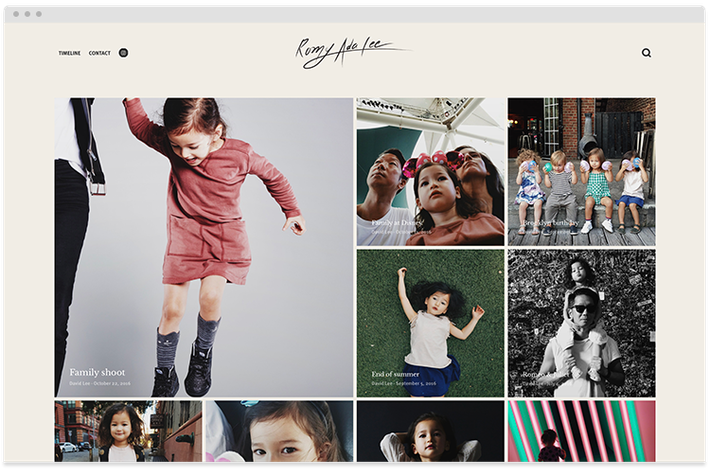 2. Create parallels between your online and offline self. Just as you learn a lot about people when you visit their home, you also learn a lot when you visit their website. Today, we meet one another online before we meet in real life, so it's crucial that your first impression be a true representation of yourself. Everything from typography to imagery to layout should be carefully considered, and seen as an integral part of your identity.
Example: Musician Leon Bridges's website is an excellent representation of Leon Bridges himself. When we collaborated to create his new website, we wanted to ensure that his unique offline persona was reflected online as well. Everything, from the typography to the photography to the layout of the site, was carefully considered and intentional. When you visit leonbridges.com, you can feel Leon coming through – you can hear his classic and timeless sound, and feel his nostalgic, yet modern fashion sense.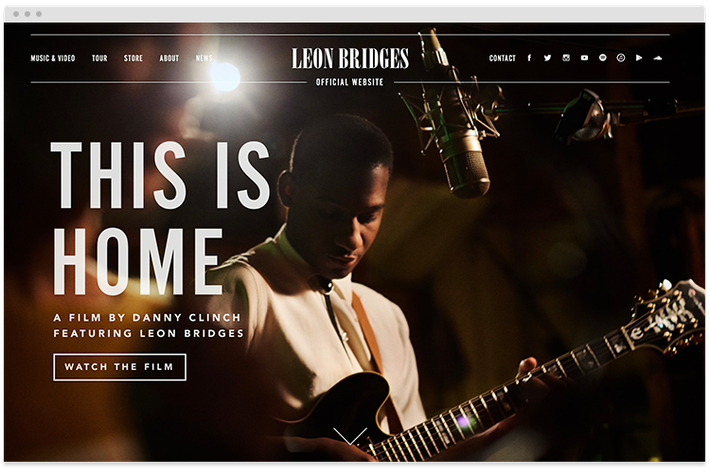 3. Make your website a living entity. Don't just set and forget your website. Give people a reason to keep coming back by creating content, whether it's a blog, a photo series, or something else altogether. Make sure you're posting content out into the world and into social media or other channels to ensure that you're driving traffic back to your website. Ultimately, your website is the place to brand yourself or your business, and visitors must always enticed to return.
Example: A few months ago, we worked alongside Sophia Amoruso to create not only a website for her Girlboss Foundation, but also to build a template that other similarly minded creatives or nonprofits could use to showcase their work. Girlboss.com serves as much more than a static landing page, rather, it's a hub for storytelling. By way of new blog entries, fresh content, and an active social media strategy, Sophia ensures that visitors continue to return to her site, and explore more of what Girlboss Foundation has to offer.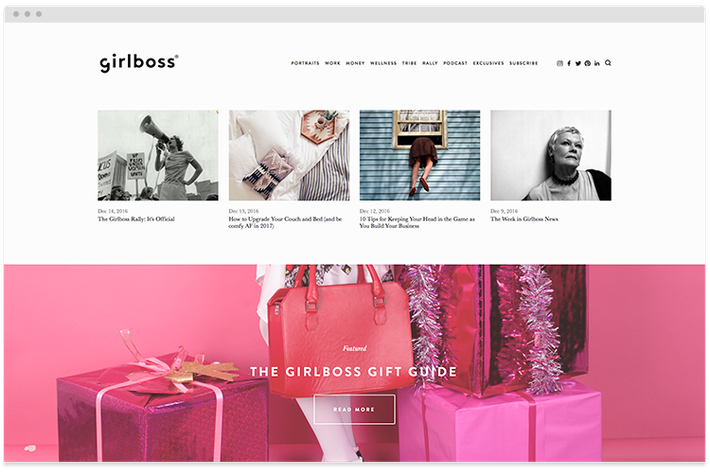 On the flip side, name three widespread misunderstandings or "common mistakes" to avoid when building a site.
1. Thinking simplicity is a bad thing: Blank space is something to be embraced, not feared. You don't always need complex, massive sites if you only have a simple message to convey. Saying something concisely often allows you to say it well. Adding superfluous content just creates white noise and detracts from your purpose.
2. Letting mobile design be an after-thought: These days, many websites are accessed via mobile devices or tablets. As such, it's worthwhile to think about designing for the small screen and work your way up, rather than starting on a large desktop and working your way down. Squarespace allows you to preview how your site will look across mobile, tablet, and desktop instantly.
3. Undervaluing the importance of text: While websites often place the highest premium upon their visual elements (large hero images, video backgrounds, and the like), the text and prose of a site should not feel like a throwaway. Every aspect of your website should be carefully curated, and that includes what you write and how it's presented. Not only should your copy be well-written, but the style of typography should also be carefully considered. While a font choice might seem trivial, it's one of those tiny details that are only noticeable when they go wrong.
This is paid content produced for an advertiser by New York Brand Studio. The editorial staff of Select All did not play a role in its creation.