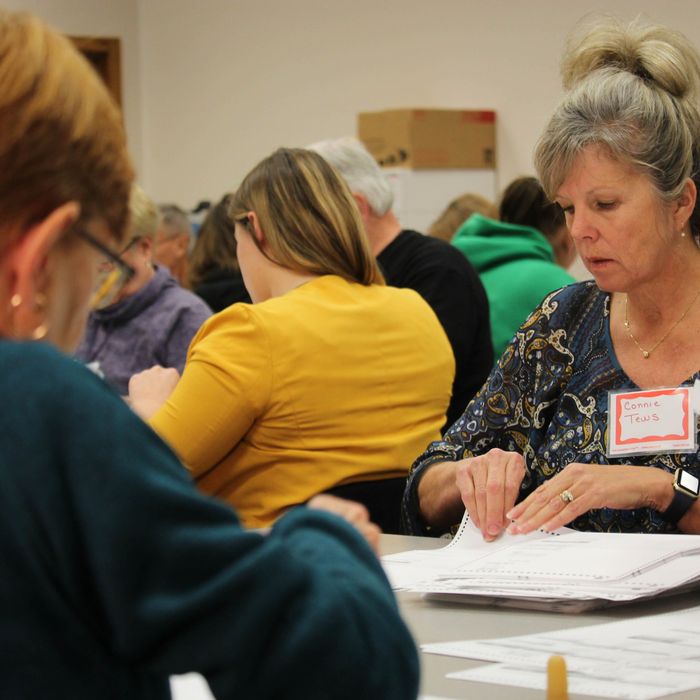 While the Wisconsin recount, as seen above, is already underway, the Pennsylvania recount may never even begin.
Photo: VNEWS International LLC/AFP/Getty Images
Lawyers for the presidential campaign of Green Party candidate Jill Stein have changed tactics in their legal effort to force a recount of the vote in Pennsylvania, shifting their case from the state to federal level. The campaign will now seek an emergency federal-court order on Monday asking for a recount on constitutional grounds, according to the Associated Press, after having dropping their case in the state courts on Saturday. It appears the change is due to Pennsylvania setting a $1 million bond, due Monday, to proceed with the recount. Stein rejected that requirement in a statement released late Saturday:
The judge's outrageous demand that voters pay such an exorbitant figure is a shameful, unacceptable barrier to democratic participation. This is yet another sign that Pennsylvania's antiquated election law is stacked against voters. By demanding a $1 million bond from voters yesterday, the court made clear it has no interest in giving a fair hearing to these voters' legitimate concerns over the accuracy, security and fairness of an election tainted by suspicion.
As Politico points out, the previous recount-cost estimate by state officials was $500,000. Stein has raised about $6.8 million for her three-state recount campaign, but that's a few million dollars short of what the Stein camp has said it will need to pay for the effort. In other words, it's not clear if the Stein campaign could have afforded the $1 million bond in Pennsylvania should they have been willing to pay it.
As justification for the move to federal court, Stein campaign lawyer Jonathan Abady insisted that "it has become clear that the barriers to verifying the vote in Pennsylvania are so pervasive and that the state court system is so ill-equipped to address this problem that we must seek federal court intervention."
The Green Party–prompted recount in Wisconsin got underway on Thursday, and the Michigan one could begin this week. Trump won all three states and Stein was unable to capture more than one percent of the vote in any of them; though in Michigan and Wisconsin, Stein's vote totals seem to have exceeded Trump's margin of victory over Clinton.
Also, pro-Trump groups are now suing to block the Stein campaign's recounts in all three states. Those legal efforts have not halted any recounts yet, but in Michigan, the state's Republican attorney general has gotten involved (on the anti-recount side) and taken the case to the Michigan Supreme Court. On Saturday in Pennsylvania, a GOP lawyer argued that the only reason for the recount was to "delay the Electoral College vote in Pennsylvania for President-Elect Trump."
Across the three states, opponents of the recounts cite a lack of evidence for — or even allegations of — any vote manipulation. Stein herself agrees that there isn't any such evidence, but is proceeding with recounts regardless, insisting she just wants to ensure the safety and security of the vote in light of accusations that Russian hackers have been trying to disrupt or influence the U.S. election. Appearing Sunday on Fox News, Stein also implied that "right now, it's not clear that all the votes are being counted." Then again, another possible motivation for Stein is that she is simply seeking publicity, though she has denied that.
What will happen next in Pennsylvania is unclear, as Stein's efforts, especially now at the federal level, are without precedent. Regardless, as with the other two states, there is no evidence of any kind to suggest that the recount will change the results of the election.