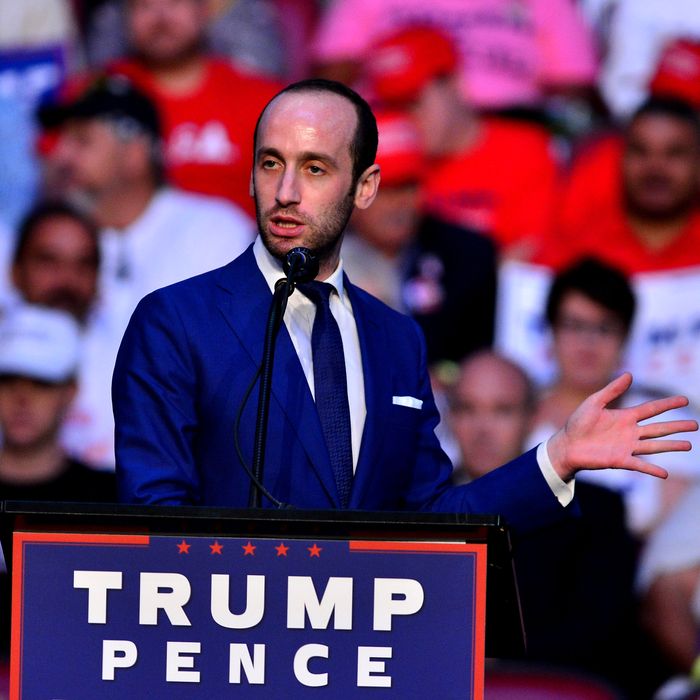 A fresh face in Trump's White House.
Photo: Johnny Louis/WireImage
Donald Trump has tapped Stephen Miller, an adviser to his campaign, to be his senior policy adviser when he assumes the presidency in January. Miller had also been an adviser to Trump ally and Alabama senator Jeff Sessions, whon Trump selected for attorney general.
In a statement after Trump announced Miller's new job, Sessions described his old employee as "the best person President-elect Donald Trump could have chosen."
Miller became a well-known presence on the campaign trail, where he would warm up crowds before Trump took the stage at rallies all over the country. Miller's brash mix of populism and wide-ranging conspiracy theories — he also boasts close ties to Breitbart News — came to define the tone of Trump's candidacy.
And while Miller might have been little-known outside the Beltway, in Washington he is an established, powerful behind-the-scenes player; he is widely credited with destroying the last real hope of immigration reform in 2014.
On news of his new appointment Miller said, "I am deeply honored for the opportunity to serve the President-elect, and to focus efforts to develop critical policies that serve the national interest." He promised that the "Trump administration will focus unremittingly on the safety, security and economic well-being of working Americans."
Miller is already feared and despised by many — and he is only 30 years old! — but for another set of political players he is something of an answered prayer. He worked with Michele Bachmann and is beloved by Ann Coulter.
The best in-depth profile of Miller so far was produced by Julia Ioffe for Politico in June, and it is veritably overflowing with unsettling quotes from the young adviser (such as his declaration at a rally in June that "Everything that is wrong with this country today, the people who are opposed to Donald Trump are responsible for!"). But this paragraph seems to capture something essential about the man:
He grins at the podium, he savors the crowd's reactions, even if they periodically boo him for not turning the stage over to Trump fast enough. "All the anger right underneath the surface just waiting to come through, about what I don't know," says a former staffer with the Republican leadership on the Hill. "I've seen the videos of him getting the crowd fired up. People that knew him when he was on the Hill, I don't know how to describe the reactions people had to the videos of him. Maybe creeped out a little bit? Like, what's going to happen when this guy gets the power?" He pauses as a thought dawns on him. "Oh my God," he says. "He's going to find out that I spoke with you and I'm going to end up in a camp somewhere."