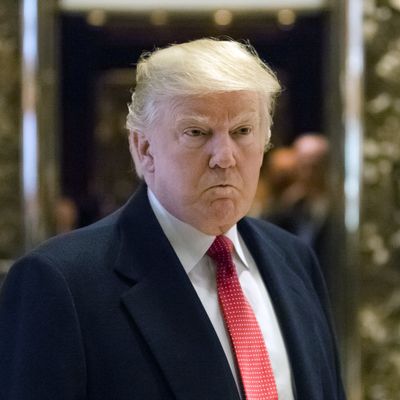 What email?
Photo: Albin Lohr-Jones/Bloomberg via Getty Images
Last Tuesday, the Energy Department received a questionnaire from the Trump transition team requesting the names of scientists, workers, and contractors who attended meetings on climate change and the social cost of carbon. On Monday, the Energy Department announced that they would not be responding to the email, which received condemnation all the way up to the White House. Now Trump's' team is distancing itself from the email, saying, "The questionnaire was not authorized or part of our standard protocol." Trump spokesperson Sean Spicer also assured everyone, "The person who sent it has been properly counseled."
Trump is famously unconvinced when it comes to climate change — he has claimed it is a hoax perpetrated by the Chinese — and the survey was seen as potential precursor to an administration-sponsored purge of scientists who don't share his skepticism, which, by the way, would include about 97 percent of all scientists worldwide.
Aside from directly addressing climate change, the questionnaire asked which societies the department's scientists belonged to and for a list of all of their recent publications.
On Wednesday, Massachusetts senator Ed Markey came to the defense of the government's scientists. "Any employee of the Department of Energy that has been working on climate science over the last eight years is actually doing their job," the Democrat told CNN. "And now what we're seeing is an inquiry by the Trump transition team that goes right to the heart of the integrity of the science."
His remarks came after other Democrats on the Oversight and Energy and Commerce committees drafted a joint letter to Vice-President-elect Mike Pence asking for an explanation of the email.
Though the incoming administration has backed off the email for now, for many it is a disturbing sign of things to come — especially in light of Trump's selection of Rick Perry to lead the Energy Department. The former Texas governor famously forgot the name of the department during a presidential debate in 2012. More disturbing: The question he was answering when he made his gaffe was which government agencies he would do away with. Perry will replace Ernest Moniz, a nuclear physicist.
White House Press Secretary Josh Earnest said on Tuesday that the administration would not comply with the email's request:
Our principle — this is a principle that presidents of both parties have long abided by — is that we should observe the protections that are in place that ensure that career civil servants are evaluated based on merit and not on politics.
He could hardly contain his smirk when he said, "I'm sure the President-elect used the same kind of criteria when choosing his new Department of Energy secretary as well. Don't you think?"