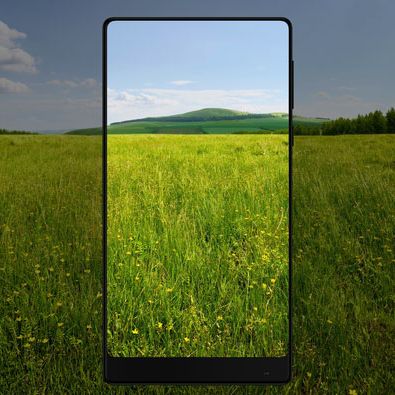 The nearly bezel-free Xiaomi Mi Mix, released earlier this year in China.
Photo: Courtesy of Xiaomi
The two best-selling premium-phone manufacturers — Samsung and Apple — are likely to release phones with no bezel in 2017. This means the basic look of smartphones — mostly unchanged for nearly a decade now — will soon be very different.

What's a bezel? Super glad you asked! Pretty much every phone released today has a front that's all glass — but not all screen. Underneath that glass will be bezels: thin strips that run along the top, bottom, and sometimes sides of phones, and used by phone manufacturers as a place to store the hardware components needed for the front of the phone — the earpiece speaker, a front-facing camera, the microphones, a proximity sensor, and so on. Plus some phones, including the iPhone 7 or Samsung's Galaxy S7, are still rocking a physical home button (even if Apple's home button is no longer mechanical, but just a fingerprint scanner that buzzes slightly when you press down on it). Here's a technical drawing I drafted up to demonstrate what bezels are: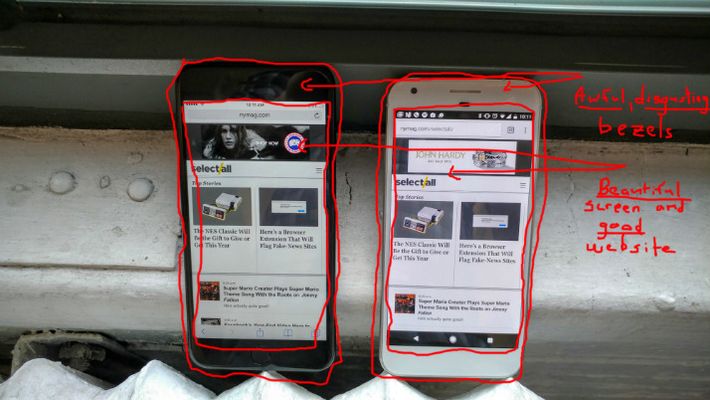 The problem with bezels is this: In the race for screen size, which overall makes a phone more pleasant to use, bezels just mean the physical size of the phone has to be larger, which leads to problems like the iPhone Plus models having trouble fitting in pockets, or some larger phones being nearly unusable if you're using only one hand. Eliminating bezels either means you can pack even more screen space into a phone of the same size, or even shrink phones down a bit while maintaining the five inches or more of screen space that many premium-phone buyers are looking for.
You don't have to wait until 2017 to see this in action — there have been several phones released in 2016 that have largely ditched bezels, with the most impressive being the Xiaomi Mi Mix. Released in late fall and released only in China, the phone is nearly all screen, with just a thin bezel at the bottom. Everything else normally placed in top-and-bottom bezels is either hidden directly beneath the screen itself, or shunted down to the thin bezel at the bottom.
The Samsung Galaxy S8, vital for Samsung's attempt to recover after the fiery Note 7 debacle, will likely hit the market with a wraparound OLED "all-screen front" per reports at both Bloomberg and South Korean website the Investor. Samsung has already been at the forefront of ditching side bezels, thanks to its curved glass screens, but it's also one of the few Android manufacturers still placing physical buttons at the bottom of its phones. If rumors are correct, Samsung will be eliminating all physical buttons in the Galaxy S8 while also eliminating its top and bottom bezel. (It's also likely that the Galaxy S8 will follow Apple in ditching the 3.5mm headphone jack.)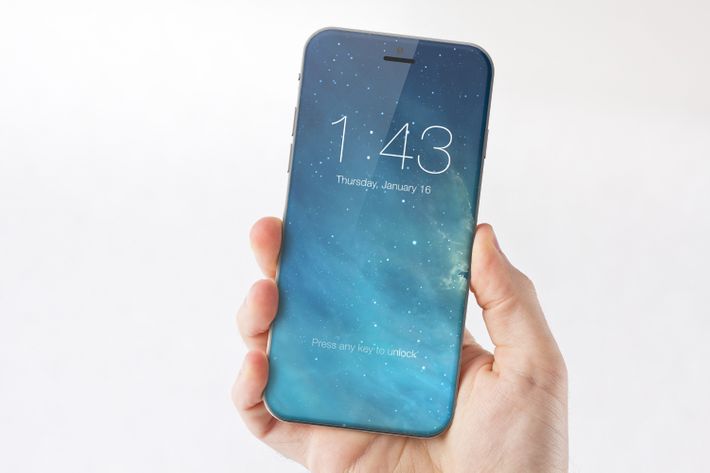 The picture at Apple is a bit murkier — it's still not clear whether its next phone will be called the iPhone 7s (as tradition would dictate) or the iPhone 8 (in celebration of the tenth anniversary of the original iPhone). Regardless, analysts at Barclays, after a trip through Apple's supply chain in Asia, now believe the next iteration of the iPhone 7 and iPhone 7 Plus will see a much larger and likely bezel-less screen, up from 4.7 inches to 5 inches for the base iPhone, with the iPhone Plus going from 5.5 inches of screen to 5.8 inches. The bigger 5.8-inch screen has also been reported by the Ming-Chi Kuo at KGI, usually one of the most accurate analysts when it comes to the future of the iPhone. Since it's wildly unlikely that Apple, obsessed with making its devices as thin and light as possible, would up the screen size and also increase the physical size of their device, this means Apple will be moving to a virtual home button (it filed a patent for just that earlier this year), and potentially ditching bezels altogether.

For Apple, getting rid of of its bezels would represent the biggest design shift in the iPhone's history. For Samsung, getting to market first with a truly "all-screen" phone would be its best chance to claw back the customers and revenue it lost during the Note 7's multiple recalls. For consumers, a bezel-free screen would mean more viewing space and a much more attractive phone (and, of course, a clear signal to everyone around them that they can afford high-end electronics). But in some ways, a bezel-less phone would also signal perhaps the final plateau of smartphone design.
Don't get me wrong, a phone front that's all display space would be a remarkable achievement — there's a reason why top-and-bottom bezels haven't gone away even after ten years of smartphones, and it's that there are some major technological hurdles to cross if you want to put a phone out that's nothing but screen (where to place your fingers while just holding the phone being the least of it). But once the entire front of the phone is all screen, there isn't much left to do. You can make the phone thinner, lighter, more powerful, give it a brighter screen or pack more pixel density, give it a better AI virtual assistant, more sensors to know more about the world around you, maybe even create a new touch-based OS that radically redefines the icon-tiles-to-full-screen approach we've seen in iOS and Android. But after this next leap forward, the actual physical thing you hold in your hand will likely look the same for a long time to come.