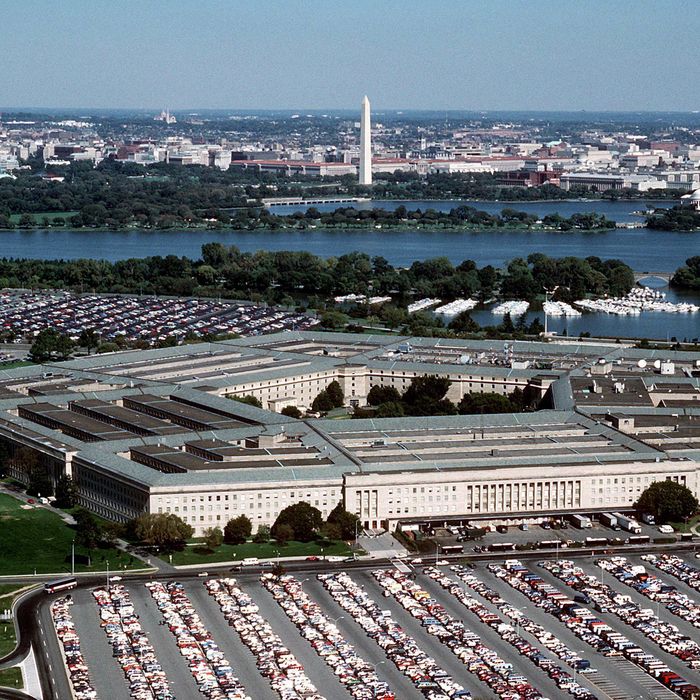 A pentagon-shaped hole for money.
Photo: USAF/Getty Images
The Pentagon's Deputy Defense Secretary Robert O. Work commissioned an internal report on administrative waste, then moved to bury it and discredit its findings when the study uncovered much more unnecessary spending — to the tune of $125 billion — than was anticipated, according to a report in the Washington Post.
Using confidential memos and interviews with Defense Department employees, the Post was able to uncover how powers at the Pentagon commissioned the study as a way to funnel funds wasted in their back-office bureaucracy to actual combat expenditures, and how those same leaders were ultimately forced to move fast to make the report disappear over fears that the massive waste it uncovered would compel Congress to further slash its budget.
The report in question — put together by the Defense Business Board, "a federal advisory panel of corporate executives, and consultants from McKinsey and Company" — ultimately discovered a way for the Defense Department to save $125 billion over five years without depending on traditional cost-cutting measures, like back-office layoffs or reducing active military personnel. Instead, the report, which was officially filed in January of last year, suggested the savings were possible simply by updating the Pentagon's technology, encouraging early retirement, reducing superfluous bureaucracy, and limiting the use of outside contractors.
Ultimately the Defense Business Board recommended that the full $125 billion would be better spent on actual troops and military equipment, which is exactly what the Defense Department was hoping for when they commissioned the study. Unfortunately, the report was too successful, exposing that nearly a quarter of the Department's full budget went to business practices and bureaucracy that could be relatively easily trimmed. It showed, among other things, that even though the Pentagon is supporting the least number of active-duty soldiers since 1940 (about 1.3 million), it was paying nearly the same amount (about 1,014,000) of "contractors, civilians and uniformed personnel" to fill office jobs.
Leaders at the Pentagon reportedly feared that if Congress knew how much money they had been effectively wasting then the lawmakers might be less inclined to lavish funds on the department, and dreaded budget cuts would soon follow. They slapped strict security restrictions on the data the study cited, and removed all mention of it from public websites.
In response to the report, Defense Secretary Robert O. Work told the Post that while he didn't dispute the findings, he disagreed with its core assertion: "There is this meme that we're some bloated, giant organization. Although there is a little bit of truth in that … I think it vastly overstates what's really going on."
Work said that the consultants hired to compile the report didn't understand how much harder it was to make changes at a government department than at a commercial enterprise. Although he did acknowledge that "we're the largest bureaucracy in the world," and "there's going to be some inherent inefficiencies in that."
Robert Stein, the chairman of the Defense Business Board disagreed, calling his board's findings "indisputable."
"They're all complaining that they don't have any money. We proposed a way to save a ton of money," complained Stein, who called the department's subsequent plan to bury his findings a "travesty."
Had the Pentagon listened to the report, they would have enjoyed a windfall in actual combat spending, but as it now stands they are facing $113 billion in budget cuts over the four years thanks to the 2011 Budget Control Act. It will fall to the new Congress, and incoming president Donald Trump — who both claims to oppose bureaucracy and government overspending, but to want larger defense budgets — to sort everything out.