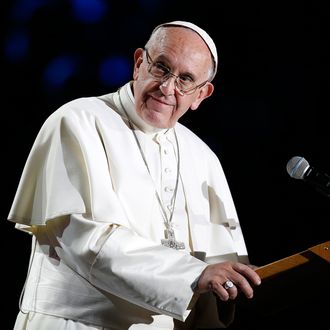 "Don't eat poop."
Photo: Michael Campanella/Getty Images
Pope Francis tried his hand at media criticism in a recent interview with the Belgian publication Tertio, and things got real gross. While warning journalists against lying and slandering, he also suggested that focusing on scandal is akin to eating shit, according to a translation provided by the Vatican press office.
"I believe that the media should be very clear, very transparent, and not fall prey — without offence, please — to the sickness of coprophilia, which is always wanting to communicate scandal, to communicate ugly things, even though they may be true," he said. "And since people have a tendency towards the sickness of coprophagia, it can do great harm."
The reference to coprophilia, a fetish that involves an unusual attraction to feces, isn't the only gross thing about this quote. The Pope also wants the media to avoid focusing on negative stories "even though they may be true." For example, stories like this one, which make him look like a doof.