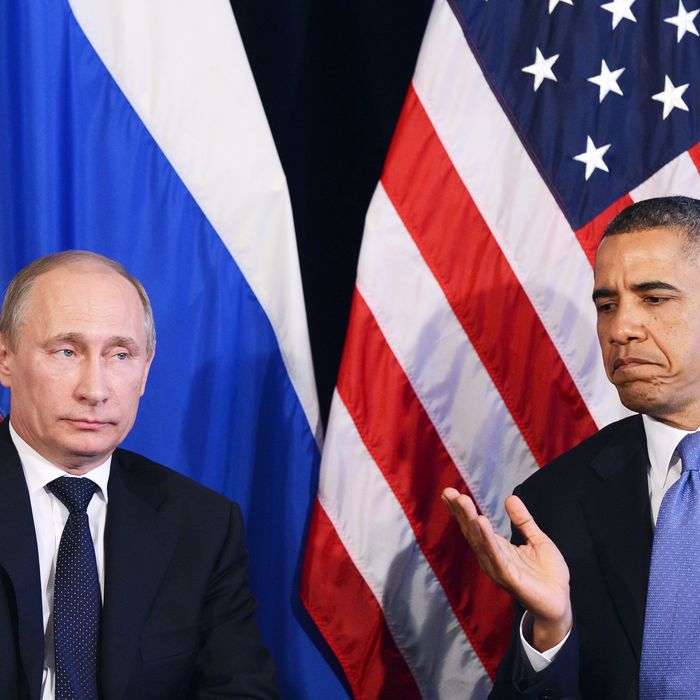 Obama ain't Putin up with this.
Photo: Jewel Samad/AFP/Getty Images
The White House took aim at the Kremlin on Thursday, expelling 35 Russian intelligence officials from the United States and placing sanctions on Vladimir Putin's top intelligence services, in retribution for Russia's alleged attempts to influence the 2016 election through a series of hacks.
Among those sanctioned are four top Russian intelligence officers whom the Obama administration has accused of coordinating the attacks on the email accounts of the Democratic National Committee and Clinton campaign chair John Podesta.
The sanctions were paired with the release of a report from the Department of Homeland Security and FBI that detailed the methods Russian civilian and military intelligence services have (allegedly) used to "to compromise and exploit networks and endpoints associated with the U.S. election, as well as a range of U.S. government, political and private sector entities."

The Obama administration is expected to release a more detailed report on related intelligence within the next three weeks, the New York Times reports. The question of whether to make such intelligence public has been a subject of debate in the White House. On the one hand, doing so risks revealing methods and sources; on the other, the move demonstrates to other hostile nations that their cyberactivities can and will be tracked.

"All Americans should be alarmed by Russia's actions," Obama said in a statement Thursday. "In October, my administration publicized our assessment that Russia took actions intended to interfere with the U.S. election process. These data theft and disclosure activities could only have been directed by the highest levels of the Russian government … these actions are not the sum total of our response to Russia's aggressive activities."
The Obama administration has repeatedly suggested it plans to take covert actions that will be more conspicuous to Putin than to the public. It's possible that these secret acts of retribution will provide more effective deterrence than the explicit ones.

On their face, the new sanctions appear largely symbolic. The president's executive order bans four top Russian intelligence operatives from the United States, while freezing any assets they might hold in U.S. banks. But it's unclear how many GRU officials will actually be affected by such restrictions.

But for Obama's successor, the sanctions will have real teeth. Donald Trump has signaled his interest in renewed cooperation with Russia, particularly on matters of counterterrorism. And the president-elect has repeatedly expressed his skepticism about Russia's culpability for the hacks of the DNC and John Podesta. Asked about rumors of impending sanctions Wednesday night, Trump argued that the "whole age of computer has made it where nobody knows exactly what is going on," and so "we ought to get on with our lives."
But absolving Russia of responsibility for the attacks by sitting on one's hands is far less politically difficult than taking the proactive step of lifting sanctions — especially when said sanctions appear broadly popular with the congressional GOP.
And unless Trump lifts those sanctions, cooperation between Russian and American intelligence agencies over counterterrorism will be compromised.
Thus, in one fell swoop, Obama has managed to slap Putin's wrists and tie Trump's hands.