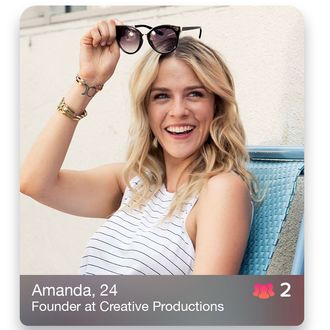 This morning Tinder rolled out a new app! For, uh … Apple TV? The app lets users sit on their couches and swipe left and right while looking at potential matches on the big screen. Luckily, there is nothing I like more than the thought of someone on their living-room couch looking at much-larger versions of the pictures I've selected because I think they make my face look hot.
The app is compatible with the Apple TV remote for swiping; once you match, you can continue your conversations on your smartphone. Though Tinder seems to have other ideas about how the whole swiping thing works. Namely, that it should be a family affair. See here: A 15-second spot of two women, ostensibly sisters, talking about a potential guy one of them would like to bone while their father chimes in from the background.
From Tinder:
Why swipe alone when you can let Aunt Donna have a say? She's known you since you were two; she's watched you grow. If she says you should Swipe Right on that nice girl in the penguin costume, you Swipe Right on that nice girl in the penguin costume. Seriously man, show Aunt Donna some respect.
"Enjoy Tinder on Apple TV — it's the biggest thing to hit family night since Yahtzee," Tinder explained on a blog post walking users through the new app. Which is a bummer, because now I have to stop using Tinder and playing Yahtzee. And I love Yahtzee.