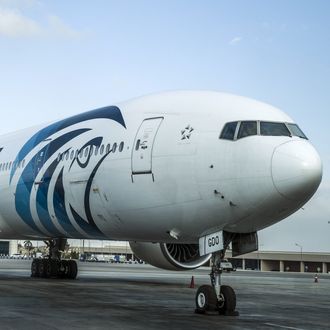 Photo: KHALED DESOUKI/This content is subject to copyright.
In May, EgyptAir Flight MS804 crashed over the Mediterranean Sea en route from Paris to Cairo, killing all 66 passengers and crew members onboard. Officials recovered the black-box recorders and other flight data, which offered investigators clues to a midair fire — but no definitive answer on what brought down the plane, and whether the cause was intentional or accidental.
But new evidence points to an intentional act, after the Egyptian civil aviation ministry said investigators recovered traces of explosive powder on victims' remains. Egyptian officials now will begin a criminal investigation based on this new development, which points to a likely bomb or explosion on the flight.
Officials speculated that terrorists might have been responsible in the immediate hours and days after the crash, particularly because the plane descended abruptly and rapidly. However, no terror organization has taken responsibility for the crash — something extremist groups like ISIS are usually eager to do. Last October, and months before the EgyptAir crash, a Russian Metrojet airliner plummeted while flying over the Sinai Peninsula; ISIS almost immediately took credit for the attack.