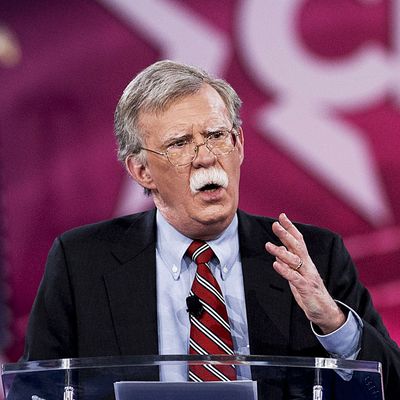 John Bolton.
Photo: Saul Loeb/AFP/Getty Images
There is a broad consensus among America's intelligence agencies that Russia attempted to influence the 2016 election through a series of cyberattacks.
In light of this fact, Barack Obama has imposed a series of sanctions on Vladimir Putin's government — including the expulsion of 35 Russian diplomats from the United States, the closing of homes in Maryland and New York used for Russian intelligence operations, and the sanctioning of two of Russia's most important intelligence organizations, the GRU and the FSB.
Obama has indicated that these explicit acts of retribution will be followed by covert ones.
Donald Trump, by contrast, has opted to publicly disparage America's intelligence community and offer Putin the benefit of the doubt. The president-elect has argued that it's impossible for anyone to truly know who committed the cyberattacks in question, because "the whole age of computer has made it where nobody knows exactly what is going on."
In other moments, Trump has implied that, even if Russia were responsible for the attacks, the United States should just learn to forgive and forget: Maybe a foreign government tried to undermine the functioning of our democracy, but at this point, "we ought to get on with our lives," Trump has reasoned, because it is "time for the country to move on to bigger and better things."
Trump's Republican allies have studied these two positions and concluded that Obama's is the one that "emboldens" Putin.
The Heritage Foundation — which has played a central role in staffing Trump's White House — argues that Obama's sanctions are "too little, too late." Is this the conservative think tank's sly attempt to pressure Trump into adopting an even more hard-line stance against Russia?
Meanwhile, the man who was one mustache away from becoming Trump's deputy secretary of State offered similar talking points on Fox News.
"I don't think they will have much impact at all," John Bolton said of the Obama administration's sanctions on Friday. "The Russians have walked all over the Obama administration for eight years. It's really been a pathetic performance. So what this last burst of activity has to do is hard to say. I do think it's intended to try and box the Trump administration in. I think it will fail. This is simply an executive order. If President Trump decides to reverse it, it's easy enough to do."
Bolton went on to accuse the Obama administration of having "politicized" the process of intelligence gathering — a claim that's belied by the president's decision not to impose sanctions or release detailed intelligence reports until after Election Day. Nonetheless, Bolton suggested that Trump was correct to treat public intelligence reports with some skepticism.
Ultimately, Bolton offered Trump far less room to maneuver than Heritage did, stipulating that "if even a piece of what is alleged about this Russian activity is true, it is utterly unacceptable," since Putin's actions would represent "an attack on our constitutional system."
Meanwhile, the tough president-elect supported by Heritage and Bolton has consistently dismissed U.S. intelligence suggesting that Russia did seek to influence the election, and chosen to frame such an attack as something America should "move on" from.