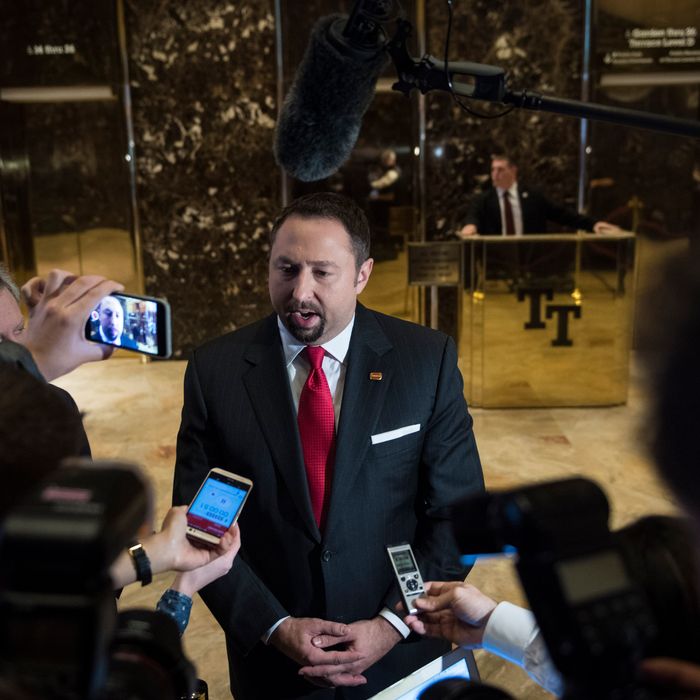 Nothing to see here.
Photo: The Washington Post/The Washington Post/Getty Images
The dystopian circus that is President-elect Donald Trump's inexorable march to the White House kept on despite the holidays with a last-minute resignation, accusations of a sex scandal, and even the deletion of a high-profile surrogate's Twitter account.
Let's recap:
On December 22, Trump said that he was appointing one of his favorite spokespeople, Jason Miller, to the role of director of communications for his nascent administration. Just two days later, on Christmas Eve (and totally without warning), Miller released a statement saying that he was giving up one of Washington's cushiest gigs to spend time with his family:
"After spending this past week with my family, the most amount of time I have been able to spend with them since March 2015, it is clear they need to be my top priority right now and this is not the right time to start a new job as demanding as White House Communications Director."
Miller's appointment had become complicated after allegations emerged that he was having an affair with another transition official. Reporters at Politico received an anonymous tip about the affair, with one source telling them that at least some members of the transition team had known about the situation "for months."
Around the same time, Trump spokesperson A.J. Delgado took to Twitter, questioning the real reason why Miller decided not to take the job, and implying that something more unsavory was going on.
In her first tweet, Delgado called Miller "the baby-daddy" — Miller's wife is pregnant with their second daughter — and wrote: "Congratulations to the baby-daddy on being named WH Comms Director!"
Delgado went on to refer to Miller as "the 2016 version of John Edwards" — in case you forgot, Edwards infamously fathered a child with an aide while his wife battled cancer. And, just in case there was any confusion over exactly whom Delgado was referring to, she also tweeted, "When you try to put on a brave face and tweet about nonsense to distract, your feed looks like @JasonMillerinDC's," and "When people need to resign graciously and refuse to, it's a bit … spooky."
Miller, a seasoned political operative who has worked for both Ted Cruz and Rudy Giuliani did not respond to Delgado's insinuations. Delgado has since deleted her Twitter account.