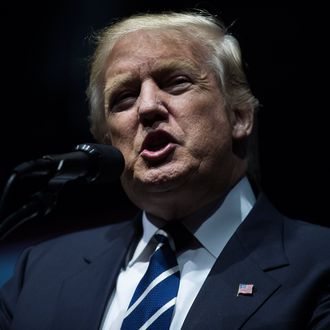 Photo: Drew Angerer/Getty Images
On Christmas Eve, when no one in their right mind was paying attention, President-elect Donald Trump announced that, in order "to avoid even the appearance of any conflict with my role as President," he would shut down his eponymous charitable foundation, leaving him free "to pursue [his] strong interest in philanthropy in other ways." Of course, as months of reporting on the Trump Foundation (most notably by the Washington Post's David Fahrenthold) have revealed, Trump's definition of "philanthropy" includes using other people's money to settle lawsuits, donate to politicians deciding whether to investigate his scams, and buy life-sized portraits of himself — which might have something to do with why he never got around to properly registering the organization as a charity. Back in October, that lack of registration prompted New York attorney general Eric Schneiderman to order the foundation to cease fundraising while he investigated it for misconduct. It's easy to see why the incoming president — who already has a seemingly infinite number of conflicts of interest — would want to make the Trump Foundation disappear, but it turns out that it's not easy.
"The Trump Foundation is still under investigation by this office and cannot legally dissolve until that investigation is complete," said Schneiderman's spokesperson on Monday night. The statement went on to say, "The Foundation's fundraising activities remain suspended following the AG's notice of violation earlier," just in case anyone was thinking that it might be a good place to squeeze in some end-of-the-year giving.
Drawing more attention to the situation, Trump tried to defend the foundation's good name:
He could probably clear all of this up by releasing his tax returns, but he won't.