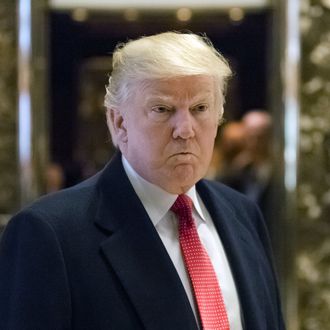 We'll have to wait another month for a Trump press conference.
Photo: Albin Lohr-Jones/Bloomberg via Getty Images
Donald Trump has postponed a planned press conference on how he will manage his businesses and address his myriad potential conflicts of interest while serving as president. Trump had promised that during a December 15 press conference — his first since July — he would discuss "the fact that I will be leaving my great business in total in order to fully focus on running the country."
Instead, on Monday night, the president-elect offered some more confusing promises via Twitter:
Trump has been resistant to truly divesting from his multi-billion-dollar real-estate empire and his wide-ranging business interests, which many say is the only way to avoid conflicts of interest. He's also balked at putting his businesses in a true blind trust, suggesting he'll be leaving them in the hands of his children instead.
Over the weekend, Trump elaborated on plans for his business in an interview with Fox News. "My executives will run it with my children," he said. "It's a big company, it's a great company. But I'm going to have nothing to do with management."
Trump's tweets confirm a report last week that his two oldest sons, Donald Jr. and Eric, will run his company, while Ivanka is stepping away — supposedly so she and her husband can take a bigger role advising the administration in D.C.
Other than that, we know almost nothing about what Trump plans to do with his business. "No new deals will be done during my term(s) in office" sounds good, but as Richard W. Painter, a White House ethics adviser under President George W. Bush, told the New York Times, it doesn't make much sense.
"Is he going to continue to borrow money from foreign banks like Bank of China? That is a deal," Mr. Painter said. "Or collect rent from foreign government-owned companies? That is a deal. Will he still be hiring people, or having people stay in his hotels?"
Trump aides said the press conference will take place before his inauguration on January 20, but it's worth noting that the president-elect only committed to "in the near future." Hopefully his schedule will clear up in the next few weeks.
This post has been updated to include Trump's tweets.