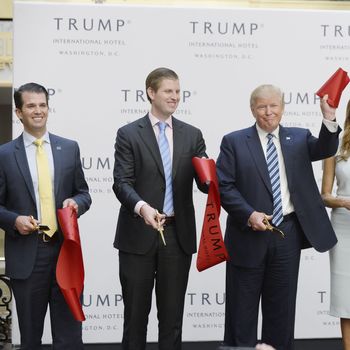 Photo: Douliery Olivier/Sipa USA via AP
Thanks to those pesky ethics experts, no one will get to pay $72,888 to have a cup of coffee with Ivanka Trump. But for the bargain price of $1 million, you can spend day one of the Trump administration enjoying a private reception with the new president, followed by a hunting trip with Donald Trump Jr. and Eric Trump.
A Texas nonprofit led by Trump's adult sons and two of the campaign's top fundraisers is throwing an "Opening Day" party on January 21, the day after the inauguration, at D.C.'s Walter E. Washington Convention Center. According to a brochure leaked this weekend by TMZ, those who pay $1 million will be treated to "a private reception and photo opportunity for 16 guests with President Donald J. Trump," as well as a "multiday hunting and/or fishing excursion for four guests with Donald Trump Jr. and/or Eric Trump, and team." They'll even throw in four guitars autographed by an Opening Day performer, possibly Toby Keith and Alabama.
The event will "celebrate the great American tradition of outdoor sporting, shooting, fishing and conservation," according to the brochure. The dress code is "Cuff Links & Camouflage," i.e. "jeans, boots, and hats are welcome." There are other donor packages (the cheapest is "Wild Turkey" for $25,000) and all proceeds "will be donated to conservation charities."
What, exactly, that means is unclear, as the charities are not named. Walter Kinzie, CEO of the event management company Encore Live, confirmed to media outlets that the newly formed Opening Day Foundation hired his firm to organize the festivities. However, he said some of the details on the leaked brochure are inaccurate. Kinzie said the participation of Trump family members is not confirmed, nor could he name any charities that may benefit from the event.
If President Trump does participate, he'll have to schedule those private receptions around the candlelit dinner previously offered to those who give $1 million or more to the 58th Presidential Inaugural Committee. The Opening Day Foundation is not affiliated with Trump's official inaugural committee. The Center for Public Integrity found that it was created on December 14; since it's a nonprofit, the foundation will not be required to reveal who donated to Donald Jr. and Eric's group for access to their father.
Larry Noble, the general counsel of the Campaign Legal Center, a nonpartisan campaign-reform organization, said the Opening Day event is "problematic on so many levels" — though he noted that the currently available information on the party is vague. "This is Donald Trump and the Trump family using a brand new organization to raise $1 million contributions for a vague goal of giving money to conservation charities, which seems a way of basically just selling influence and selling the ability to meet with the president," he told the Center for Public Integrity.
Still, it could be worse. For instance, Think Progress reported on Monday that the Embassy of Kuwait allegedly moved its National Day celebration to the Trump International Hotel in D.C. due to pressure from the Trump Organization. The February event is usually held at the Four Seasons in Georgetown, but a source said the upcoming reservation was abruptly canceled after members of the Trump Organization urged the ambassador to move the party in the days after the election.
The president won't be dropping by Kuwait's celebration, but as one of the many diplomats wooed by the Trump International explained last month, doing business there does have its advantages (they hope). "Why wouldn't I stay at his hotel blocks from the White House, so I can tell the new president, 'I love your new hotel!' Isn't it rude to come to his city and say, 'I am staying at your competitor?'" said the Asian diplomat.
Think Progress said that if the Trump Organization actually did put pressure on Kuwait, that could lead to impeachment:
The apparent move by the Kuwaiti Embassy appears to be an effort to gain favor with president-elect through his business entanglements, and it appears to show Trump's company leveraging his position as president-elect to extract payments from a foreign government. The latter, according to top legal experts, would be unconstitutional and could ultimately constitute an impeachable offense.
But it's unclear if the Emoluments Clause applies when diplomats stay in the president's hotel, and at this point, Republicans in Congress don't intend to find out. It's also possible that the president-elect will decide to divest from his businesses to avoid conflicts of interest, but that seems unlikely, particularly since he canceled last week's press conference to explain the new arrangement.
And all of this may be a moot point. According to Newt Gingrich, when Americans voted for a successful businessman who promised to "drain the swamp," they knew "this was going to be a billionaire presidency." Monday on The Diane Rehm Show, Gingrich suggested that Congress should just change any ethics laws that stand in his way. "We've never seen this kind of wealth in the White House, and so traditional rules don't work," he said. "We're going to have to think up a whole new approach."