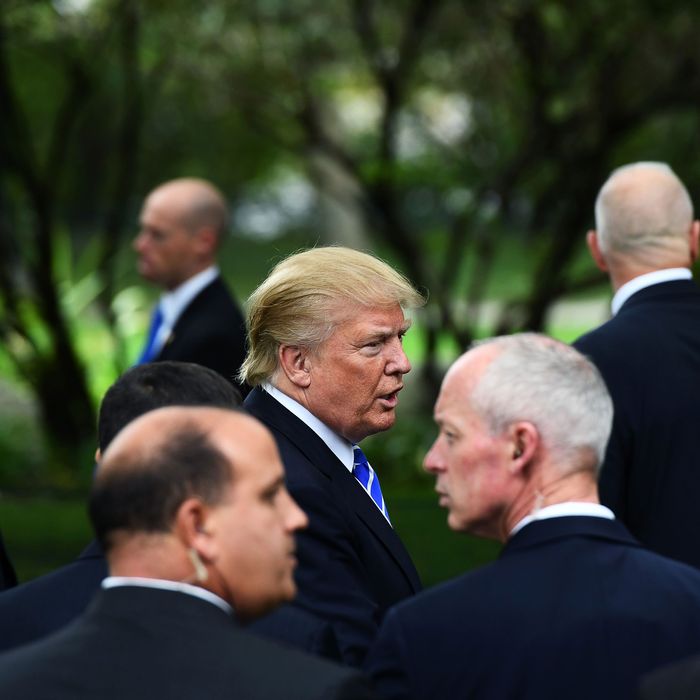 The president-elect.
Photo: JEWEL SAMAD/AFP/Getty Images
Donald Trump won't content himself with the standard-issue presidency — he's going to have his customized. Daily intelligence briefings are out, along with the norms that prohibit the appearance of corruption. "Victory rallies" are in — as is the private security force that policed dissent at Trump's events throughout his campaign.
Politico's Ken Vogel reports that Trump has retained his private security detail as president-elect, and he's expected to carry on doing so even after inauguration — a move that's both unprecedented and, in the eyes of some Secret Service agents, dangerous.
"It's playing with fire," former Secret Service agent Jonathan Wackrow, who worked on Barack Obama's protective detail during his 2012 reelection campaign, told Politico. "It creates greater confusion and it creates greater risk … you never want to comingle a police function with a private security function."
Trump's use of private security was aberrant long before he won the White House. Most presidential candidates drop outside security the moment they're provided Secret Service protection. But the president-elect actually increased his spending on private security after he was provided such protection in November 2015: Even as Hillary Clinton outspent the GOP nominee by nearly 75 percent, Trump spent nearly three times as much on security contracting. In total, his campaign doled out more than $1 million on private security through the end of last month.
With that investment, Trump assembled an anti-protester intelligence squad, tasked with identifying people at his rallies who didn't look like they belonged. Shockingly, this security team wracked up dozens of accusations of racial profiling and the use of undue force.
But while this ragtag group of former New York cops and FBI agents has excelled at removing black protesters — and the occasional Indian-American Trump supporter — from the GOP standard-bearer's rallies, they've proven less adept at securing their boss's physical safety.
Former NYPD officer Keith Schiller has worked security for Donald Trump since 1999. He is the president-elect's personal body guard and "consigliere," and is expected to serve as his "full-time physical gatekeeper" in the White House.
But according to Vogel, Schiller's relative inexperience at providing security for politicians caused occasional problems on the campaign trail.
In March, when a 32-year-old man jumped a barricade and rushed toward the stage as Trump was speaking at a rally in Dayton, Ohio, Secret Service agents immediately descended on Trump from opposite sides of the dais, encircling him in a human shield as a handful of other agents tackled the man before he could leap onto the stage. About a second after the first two agents reached Trump, Schiller leapt onto the stage and moved to position himself between the scrum and his boss … Schiller's reaction was panned as too slow, and was the subject of disapproving conversation among agents, according to a law enforcement source briefed on the conversations. The source said one agent described Schiller as the "JV trying to keep up in a varsity game."

Specifically, the source said that Schiller came from a position on the dais that the agents would have used to evacuate Trump if that were to have been necessary. "If that happened, they would have run right into Keith. He was about three seconds too late," the source said.
The prospect of the American president retaining a personal security force that specializes in targeting dissenters is unsettling for fairly obvious reasons.
But the move is concerning even if one stipulates that the team will be used exclusively as an anodyne adjunct to the next president's security detail, as it illustrates the depth of Trump's preference for loyalty over expertise. In this context, that preference may threaten Trump's personal security; in others, it threatens our national one.