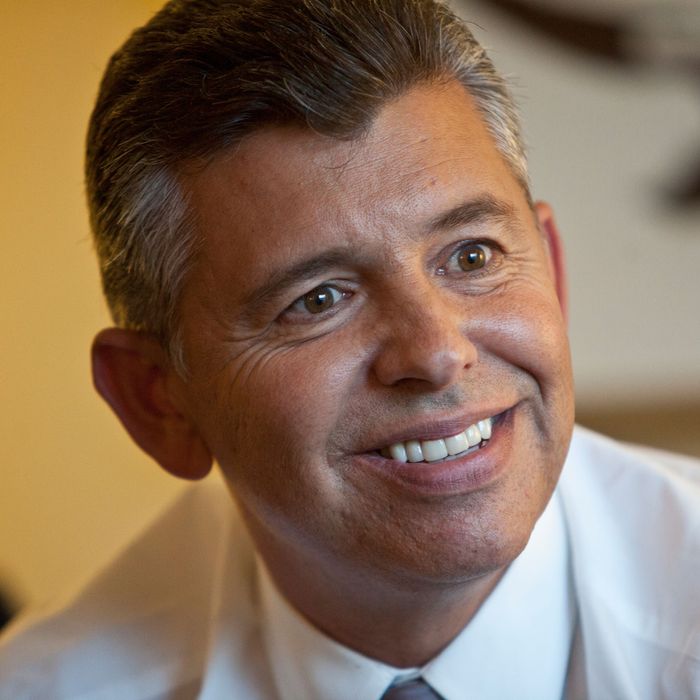 Former California lieutenant governor Abel Maldonado is being considered for secretary of Agriculture. He is an actual farmer.
Photo: Ted Soqui/Corbis via Getty Images
Donald Trump is running out of time and positions if he wants a Latino cabinet member. But now he is scheduled to interview as a possible secretary of Agriculture a semi-retired Republican pol whose name should be familiar to Californians: former Lieutenant Governor Abel Maldonado.
On the positive side, Maldonado is an actual farmer, having turned his family's Santa Barbara County strawberry farm into a prosperous enterprise before he went into full-time politics. He also studied crop science at Cal Poly–San Luis Obispo, though he never earned a degree (perhaps another positive to Trump given his base of support).
Maldonado as a Trump cabinet member will raise some eyebrows among California conservatives who view him as the ultimate RINO. He won his fame in 2009 by being the first GOP state legislator to cross the aisle and vote for a state budget with a tax increase (which under the state constitution could have been blocked by a unified GOP opposition). While this gambit infuriated conservatives, it worked out well for Maldonado personally since he parlayed it into a 2010 appointment for a vacant lieutenant governor's position (he was perhaps the only Republican who could be confirmed by a Democratic-controlled legislature). He also managed to extort for his budget vote a bipartisan agreement to place on the ballot an initiative creating California's current Top Two primary system, which replaced party primaries with a nonpartisan free for all with the top two finishers, regardless of party, proceeding to the general election.
It's this last dubious contribution to California politics for which Maldonado will long be known even if Trump doesn't pick him for a cabinet gig. The jury is still out as to whether Top Two has succeeded in empowering moderates in both parties who can reach beyond the "base" for primary voters. But it has definitely produced some funky two-Democrat and two-Republican general-election contests, including an all-Democratic U.S. Senate field this very year. Indeed, the absence of a Republican U.S. Senate may have contributed to Hillary Clinton's massive winning margin in California this November.
Even if Team Trump doesn't hold that or his RINO rep against Maldonado, it is certain they are aware of an open letter to Trump from Latino Republicans he signed onto shortly after the mogul announced his presidential candidacy:
"America," the letter states, "more than ever needs a president who will unite us — with both words and deeds — not further divide us. You fail on all accounts. As such, not only have you lost our respect and our buying power, but you have lost our vote. We will never support you, your candidacy or your enterprises. Without the Hispanic vote you will not be the Republican nominee, much less the president of our great nation."
So much for that show of force. It's also worth noting that, despite his notoriety, Maldonado has never been elected to a position higher than the state Senate, having lost his reelection as lieutenant governor in 2010 and a primary for state controller in 2006. He also entered the governor's race in 2014 but withdrew before the primary.
But Maldonado does have one ace in the hole: a common interest in reality TV. Earlier this year, he actually tried to secure a show of his own, as the Sacramento Bee reported:
A video compilation that has rocketed around the Internet recently opens with an apparent working title: Meet the Maldonados. In it, the former state legislator and unsuccessful Republican gubernatorial candidate can be seen drinking wine with his daughter, asking his son about having a condom and laughing after his wife informs their daughter that "we watched porn when you were conceived."
At one point, a horse starts relieving itself in Maldonado's house. "Yeah, Sacramento's better than this," a flustered Maldonado mutters as he cleans up.
Yeah, sounds like Maldonado could get along just fine with Trump, style-wise.