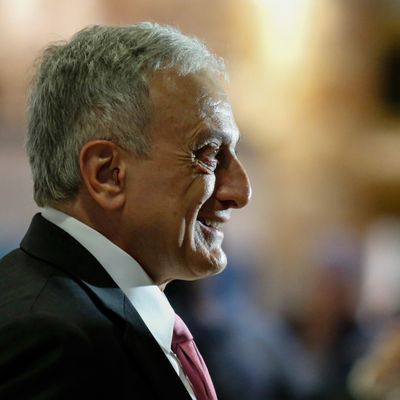 Self-proclaimed comedian, Carl Paladino.
Photo: Kena Betancur/AFP/Getty Images
Carl Paladino is not good at apologies. The upstate New York Republican, who said last week that his hopes for 2017 include President Obama's death after sex with a cow and Michelle Obama being "let loose in the outback of Zimbabwe," tried and failed to explain himself Tuesday.
"I certainly am not a racist," Paladino said in an open letter to Artvoice, the Buffalo alt-weekly that asked him questions for a year-end survey and published his completely bonkers answers.
When he received the survey, Paladino writes, "I was wired up, primed to be human and make a mistake." In that "emotional moment," he writes, he tried to "say something as sarcastic and hurtful as possible about the people so responsible for the hurt and suffering of so many others." But the public should have never seen his missives. He was trying to send them to friends but clicked "reply" instead of "forward," he admits.
But Paladino, the GOP's 2010 nominee in the New York gubernatorial race, didn't stop there. He added shots at those he's deemed unworthy, including the media ("mean spirited disoriented"), progressive activists ("rabid hordes of attacking parasites"), and anyone who dares to call him out ("timid souls who sit unbloodied in the gallery always prepared to criticize").
Among that final group, no doubt, are those calling for him to resign his seat on the Buffalo School Board. Governor Andrew Cuomo and Buffalo mayor Byron Brown have chided Paladino, too. Even his own son is running away from the remarks. William Paladino issued a statement on the controversy Saturday; he called his father's comments "disrespectful and absolutely unnecessary."
Carl Paladino had previously defended his remarks as "old-style humor," which he claimed was to "wake people up." But not even Donald Trump's campaign was willing to support him here. Paladino calls himself a personal friend of Trump's and he served as the New York co-chair of Trump's campaign. But even the president-elect, the man who delivered the infamous Mexican "rapists" speech, couldn't publicly stand by Paladino here.
"Carl's comments are absolutely reprehensible," a Trump spokesperson told the Times, "and they serve no place in our public discourse."