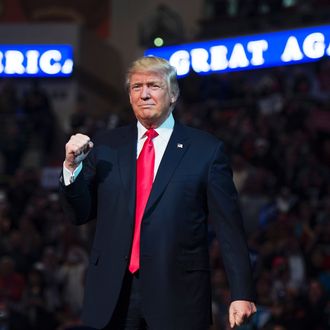 Photo: Don Emmert/AFP/Getty Images
Thomas Bossert, who served George W. Bush as a national-security aide, will be Donald Trump's top adviser on counterterrorism, cybersecurity, and homeland security, the president-elect's transition team said Tuesday. The team also announced that the role, which is under the national-security adviser in the Obama administration, will be elevated so that Bossert and Lt. Gen. Michael T. Flynn, Trump's pick for national-security adviser, will be equals.
The change in the job's status was made, the transition team said, to emphasize the importance of the role. "Mr. Bossert will focus on domestic and transnational security priorities as General Michael Flynn remains steadfastly focused on international security challenges," a statement said.
The 41-year-old Bossert is currently head of a private consulting firm and is a fellow at the Atlantic Council's Cyber Statecraft Initiative. In a statement, he emphasized the importance of cyberissues. "We must work toward cyber doctrine that reflects the wisdom of free markets, private competition and the important but limited role of government in establishing and enforcing the rule of law, honoring the rights of personal property, the benefits of free and fair trade, and the fundamental principles of liberty," he said.
Along with being a veteran of the Bush White House, Bossert remains a supporter of the Iraq War. Just last year, he wrote in the Washington Times that the "use of force in Iraq was just and, at the time, necessary."