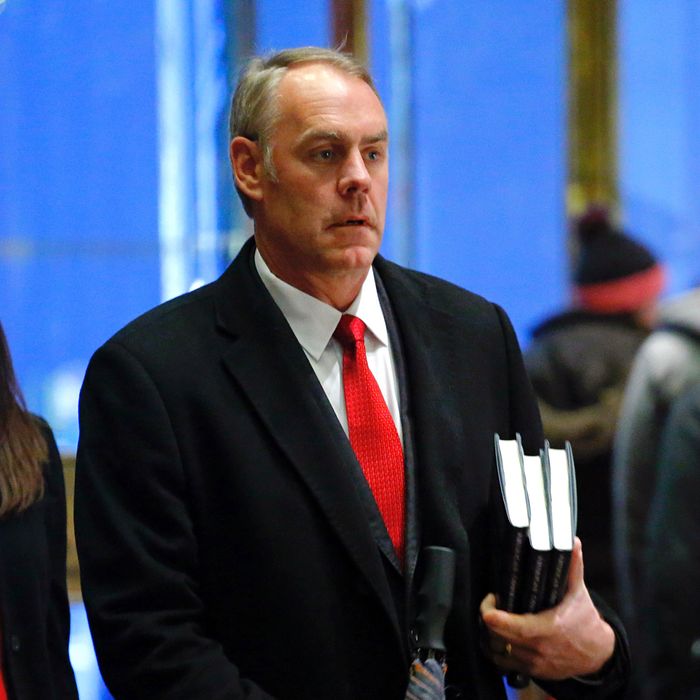 Donald Trump seemed to like the cut of Ryan Zinke's jib in choosing him to run a department that fossil-fuel interests would dearly love to influence.
Photo: Kena Betancur/AFP/Getty Images
In a bit of a surprise, Donald Trump has offered (at least according to multiple reports) the job of secretary of the Interior to the least-experienced and least-well-known of three western Republican members of Congress who were under active consideration for the gig: freshman representative Ryan Zinke of Montana, a long-time and much-decorated Navy SEAL who was first elected to office in 2014.
Most observers expected Representative Cathy McMorris Rodgers of Washington, who is a member of leadership as chairman of the House Republican Conference, to get the nod. Yesterday word got out that Zinke and another more senior colleague of his, Representative Raul Labrador of Idaho, were being interviewed.
Either Rodgers or Labrador could have given Trump some much-needed diversity points (particularly the latter, an unlikely Latino now living in Idaho), and also represented different tribes of conservative Republicans (Rodgers an Establishment figure, Labrador a major tea party leader). But Zinke does strike you as the kind of person Trump tends to admire: someone whose primary experience is outside government, and who was an early supporter of Trump's candidacy.
Interior is a pretty important department in terms of Trump's and the Republican Party's future plans. Opening up federal lands for greater fossil-fuel production is one of those issues on which Trump and most of his party are in full accord. It is central not only to the GOP's energy and environmental policies, but to the Trump economic strategy. One conservative study claimed more aggressive drilling on federal lands could create 2.7 million new jobs and $3.9 trillion in new federal revenues over 30 years.
Zinke would likely be a strong advocate for public-lands exploitation. His League of Conservation Voters rating for his brief career is a miserable 3 percent, and the fossil-fuel industry's battle cry of "energy independence" was his 2014 campaign slogan.
But Zinke has distinguished himself by opposing one federal lands strategy popular among many western conservatives: turning them over to the states. He actually quit the platform-writing team at the 2016 Republican National Convention when language endorsing transfer of lands to the states was included.
Zinke hasn't accepted the job just yet, and Montana Republicans might prefer that he stick around and challenge Democratic Senator Jon Tester in 2018. But for westerners, there's nothing much bigger than the department of the Interior, so it's likely he's Trump's guy.