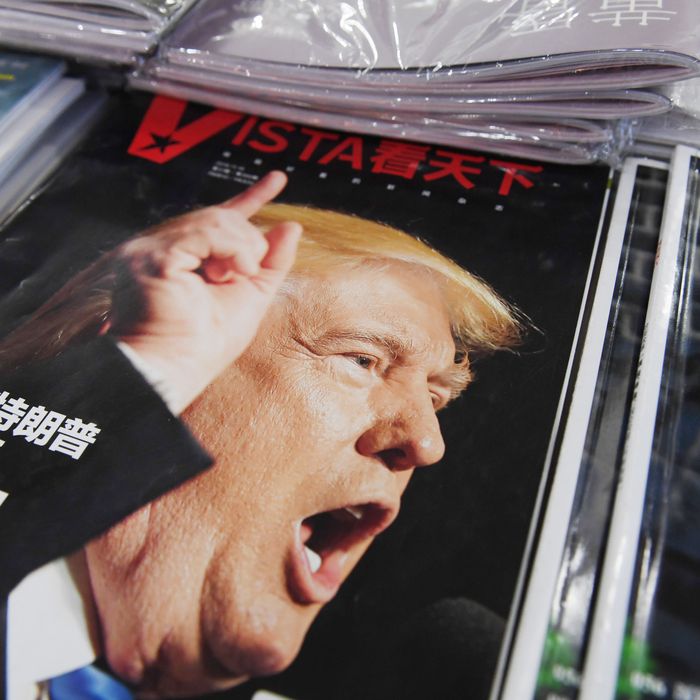 Yuge in China.
Photo: GREG BAKER/AFP/Getty Images
Donald Trump is still more than a month away from assuming the Oval Office, but he's already managed to inflame diplomatic tensions with the world's second-greatest power.
First, the president-elect broke with nearly four decades of precedent by accepting a phone call from the president of Taiwan. Since 1979, a cornerstone of U.S.-Sino relations has been America's acceptance of the "One China Policy" — a doctrine that prohibits the recognition of Taiwan as an independent state. By directly communicating with (the pro-independence) president of the island, Trump signaled his disrespect for that policy.
Which is a big deal. Preventing Taiwan from achieving internationally recognized independence is one of the top priorities of Chinese foreign policy — one that its military is prepared to go to war over.
Following Trump's call, China decided to clarify that last point, by flying a nuclear-capable bomber over its disputed islands in the South China Sea — while also preparing to ship new surface-to-air missiles to those islands, according to U.S. officials who spoke with Fox News.
Trump was not impressed by this display of force. In an interview with Fox News Sunday, the president-elect suggested that he felt no compulsion to honor the "One China" policy — unless China accedes to his demands on trade.
"I fully understand the 'One China' policy," Trump assured Fox. "But I don't know why we have to be bound by a 'One China' policy unless we make a deal with China having to do with other things, including trade."
Of course, honoring the "One China" policy has allowed the United States to make countless "deals" with China, on issues of ranging from environmental policy to international sanctions.
On Monday, China announced that future acts of cooperation would be jeopardized, should Trump continue down his current path.
"China expresses serious concern on this subject," Chinese Foreign Ministry spokesman Geng Shuang told reporters, including representatives of NBC News. "If the [One China policy] is compromised or interfered with, any sound and steady development in China-U.S. relations and cooperation in various fields is out of the question."
The Global Times, a Chinese state-run newspaper, delivered this message less diplomatically, deriding Trump's behavior as very "childish and impulsive."
"China needs to prepare enough ammunition for a roller-coaster ride of the China-U.S. relations with Trump," the paper wrote in an editorial. "There are many other people in the world that also need to buckle up the seat belts …China and other powers in the world are not going to be bullied."
(In March, the Global Times argued that Donald Trump success in the GOP primary testified to the hazards of democracy.)
Trump spent much of his campaign rattling a saber in Beijing's direction. "We can't continue to allow China to rape our country," he told his supporters in May. "That's what they're doing. It's the greatest theft in the history of the world."
Softer versions of this sort of rhetoric are not uncommon in American political campaigns. While few candidates deploy analogies to sexual violence as freely — or enunciate the word China as violently — as the GOP standard-bearer did, some amount of chest-puffing toward the East is a perennial feature of our politics.
And China generally makes the same assumption about this bellicosity that many liberals made about Donald Trump's political career — after Election Day, it will all be over.
But now Trump is president-elect. And China is shipping missiles to the disputed islands that many see as the (potential) cradle of the next world war. And the way Trump says China doesn't seem so funny anymore.