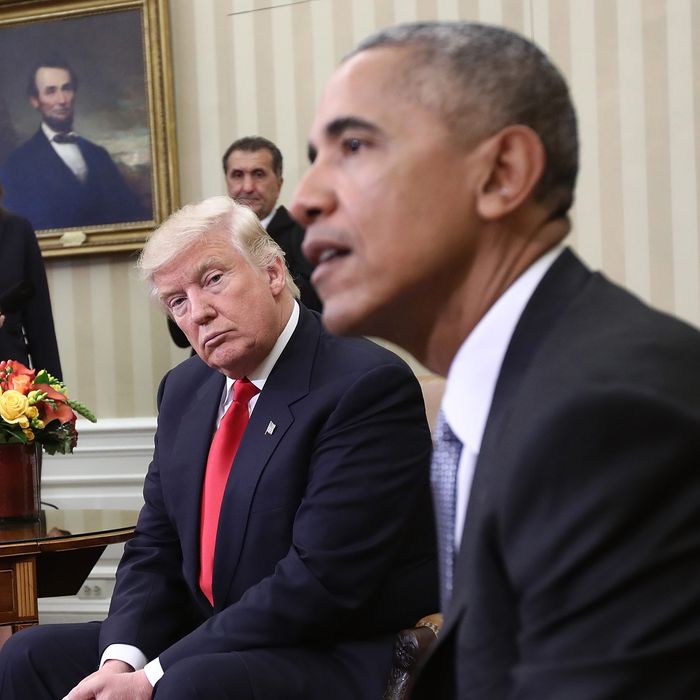 Smooth transition — NOT!
Photo: Win McNamee/Getty Images
Donald Trump lacks many of the characteristics that one might want in a commander-in-chief. But punctuality isn't one of them. In fact, the president-elect has taken the unprecedented step of showing up for his new job 11 weeks early.
Since triumphing on November 8, Trump has comported himself as though he were already ensconced in the Oval Office, hosting a meeting with the prime minister of Japan; "cancelling" two of the U.S. military's most expensive projects; attempting to dictate America's actions at the United Nations; and, most ambitiously, speaking with the president of Taiwan by phone and then publicly questioning the wisdom of respecting the One China policy — an action that threatens to transform America's relationship with the world's second-greatest power and which was taken without the consultation of the Obama White House or State Department.
And yet, despite all these signals that Trump is ready to take things from here, Barack Obama has carried on as though he were still the president of the United States. Obama has even had the audacity to use the power of his office to shape federal policy.
This behavior has "irked" Trump, according to transition officials who spoke with Politico:
Obama's decisions to permanently ban oil and gas drilling in portions of the Arctic and Atlantic oceans, to eliminate dormant regulations requiring males from certain largely-Muslim countries to register with immigration authorities, and to issue pardons and commutations have also raised eyebrows around the president-elect.
But Obama's disrespectful decision to pardon some nonviolent drug offenders was only the tip of the iceberg, apparently.
Above all, the president-elect was incensed by Obama's suggestion that he (a politician with a 64-percent approval rating) would have likely defeated Trump (a politician with a 37-percent approval rating) had they campaigned against each other.
And shortly after taking a shot at Trump's political prowess, Obama seemed to deride the president-elect's political philosophy. Per Politico:
Trump was also irritated by Obama's comments at Pearl Harbor on Tuesday afternoon in which he said, "even when hatred burns hottest, even when the tug of tribalism is at its most primal, we must resist the urge to turn inward. We must resist the urge to demonize those who are different." These felt to Trump like direct criticism of the president-elect, according to two people close to Trump.
All these slights led Trump to begin his Wednesday morning by tweeting:
Following this statement, Obama and Trump spoke over the phone, and, somehow, the president-elect found it in his heart to forgive the president.
By Wednesday night, Trump was telling reporters that the transition was going "very smoothly."
"Our staffs have been getting along very well, and I'm getting along very well with him," Trump said, "other than a couple of statements that I responded to and we talked about it and smiled about it and nobody is ever going to know because we are never going to be going against each other."
Peace has been restored. And, by all accounts, the transition really is going smoothly. Current cabinet members are giving their prospective replacements the lay of the land. Obama has repeatedly defended the legitimacy of Trump's election and suggested that he will avoid criticizing his successor in the early days of the new administration.
Still, there's a decent chance that relations between the two men will sour again before Inauguration Day. On January 10, Obama will deliver a farewell address in which he is expected to suggest that his administration did many great things and that Trump would be wrong to undo them. What's more, the president is reportedly seeking to publish a report on Russia's role in the 2016 election, even though Trump has made it clear that he doesn't want to hear any more about that stuff because he finds the "whole age of the computer" very confusing.