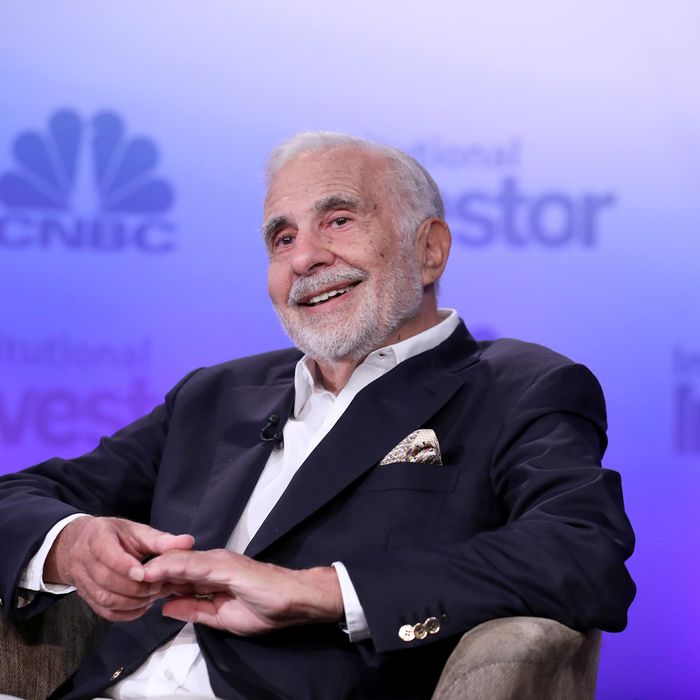 Carl Icahn is richer than all the other billionaires advising Trump combined.
Photo: CNBC/NBCU Photo Bank via Getty Images
Donald Trump offered a peek at the big changes in store for the economy on Wednesday with the selection of two controversial advisers on trade and federal regulations. The president-elect named billionaire investor Carl Icahn special adviser to the president on overhauling federal regulations. He also announced that he would create a National Trade Council in the White House, to be led by economist Peter Navarro, a vocal critic of trade with China. Plus, CNN reports that the Trump transition team is floating the possibility of early executive action to impose tariffs on foreign imports.
Icahn, whose estimated worth is more than $21.6 billion, made a name for himself as a corporate raider in the '80s, buying stakes in companies and pushing them to change direction. ("Through the miracle of public relations, he is now called a shareholder activist," as The Wall Street Journal puts it.) Since his position in the Trump administration isn't an official government job, he won't receive a salary and he can keep his current investments — which stand to benefit from policies pursued by President Trump.
Icahn Enterprises bought Trump Entertainment Resorts after it emerged from bankruptcy again in February, and Icahn was an early Trump supporter. He's already been advising Trump on his picks for White House jobs, endorsing Steven Mnuchin to run the Treasury Department and Wilbur Ross for the Commerce Department. He reportedly had a central role in Trump's selection of Scott Pruitt to head the Environmental Protection Agency. Icahn, who owns an oil refinery, has been railing against part of an EPA ethanol rule for months, and Pruitt is believed to be open to changing it, according to Politico.
Now Icahn is helping Trump with his search for the next chairman of the Securities and Exchange Commission. As the Journal explains, the person who fills that role will have significant influence over how Icahn does business:
Activist fights are tightly controlled by the SEC. The agency issues rules that affect activists' ability to do business and uses its enforcement arm to police their tactics. Activists and their corporate opponents regularly complain about the other side to the SEC.

The successor to current SEC Chairman Mary Jo White could have to decide whether activists will be forced to disclose their stakes more quickly after acquiring them and whether those disclosures need to include derivatives such as some stock options. Business groups that argue activists put their own short-term gains ahead of companies' long-term futures urge such changes.
Trump said on the campaign trail that "70 percent of regulations can go," and Icahn has also argued that federal regulations are slowing the economy (though, as Politico notes, he's in favor of some that benefit his business).
"Under President Obama, America's business owners have been crippled by over $1 trillion in new regulations and over 750 billion hours dealing with paperwork," Icahn said in a statement released by the Trump transition team. "It's time to break free of excessive regulation and let our entrepreneurs do what they do best: create jobs and support communities."
"The corrupt nature of this arrangement cannot be understated," Eric Walker, a spokesman for the Democratic National Committee, responded. "Voters who wanted Trump to drain the swamp just got another face full of mud."
Dean Baker, co-founder of the Center for Economic and Policy Research, a liberal think tank, said that even though Icahn is a billionaire, he and Navarro aren't exactly part of the "swamp" that Trump ran on draining. "They're both outliers," Baker told the Journal. "In the sense that we think of a business establishment, neither of them are in it."
Navarro, a Harvard-educated professor at the University of California, Irvine, became a top Trump campaign adviser, though he didn't meet the president-elect in person until September. They began corresponding in 2011 after Trump publicly praised an analysis Navarro laid out in his books The Coming China Wars and Death by China: Confronting the Dragon — A Global Call to Action. As the titles suggest, Navarro believes China is waging an economic war on the U.S.
A colleague said that while Navarro is a longtime Democrat, he felt abandoned by his party, and found a politician interested in his ideas. Navarro endorsed many of Trump's attacks on China, including putting a 45 percent tariff on goods imported from China. In August he told the L.A. Times that, unlike many other experts, he does not think this would start a trade war:
Tariffs are not the end game. Tariffs are a negotiating tool to get China to stop its massive cheating. If China wants access to the world's largest market, it must play by the rules. Right now, China exploits the weakness of the White House as it continues to engage in its unfair trade practices. China will respect Donald Trump.
Two sources who represent business interests in D.C. told CNN that incoming White House chief of staff Reince Priebus has said the Trump team is considering imposing a 5 percent tariff on imports. One source said they thought the idea would be dropped because it drew such fierce opposition from the business community and the GOP congressional leadership. However, Trump transition sources are defending the tariff, sparking new concerns from business leaders. Trump made no secret of his plan to impose high tariffs (though the numbers kept shifting), but it's hard to know which of the president-elect's remarks are meant to be taken seriously.