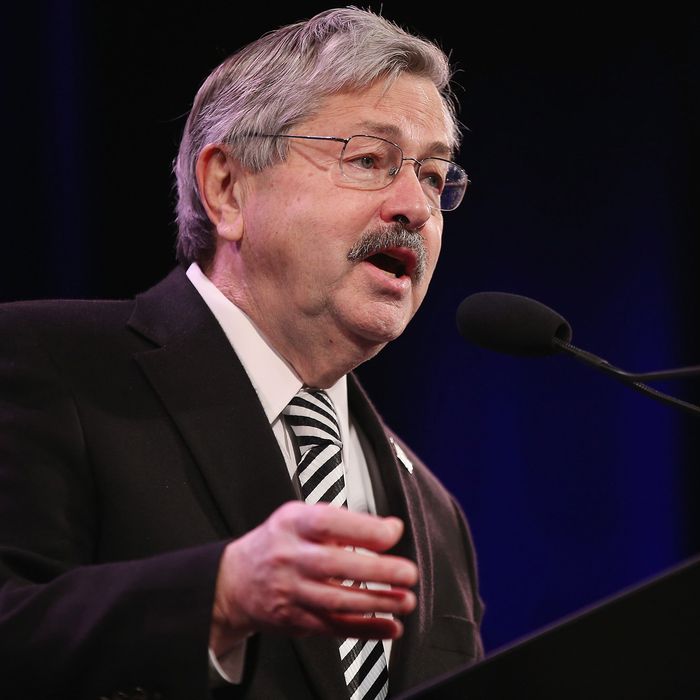 The next U.S. ambassador to China has a good personal history with Xi Jiping. But will it matter with Trump in the White House?
Photo: Scott Olson/Getty Images
In the wake of his apparently deliberate provocation of the Chinese government over Taiwan, President-elect Donald Trump's next step with respect to the world's largest country seems impressively conciliatory: appointing Iowa governor Terry Branstad as U.S. ambassador to Beijing.
Branstad has a famously friendly relationship with China's "paramount leader" Xi Jiping that dates back 30 years to a trip to Iowa made by Xi, who was then a provincial agricultural official. Then as now, Branstad was governor of Iowa, and by virtue of his office, someone with a powerful interest in selling grain and pork to that vast, largely untapped market across the Pacific. He's certainly made sure to keep up the contacts, as Jennifer Jacobs reports:
Branstad in 2012 feted Xi, then China's vice president, with an elaborate dinner at the Iowa Capitol in Des Moines, and days after Trump's election embarked on a previously planned, week-long trade mission to China and Japan, his fourth trip to China in the last seven years.
And sure enough, China's government has reacted warmly to the news an "old friend" would be serving as U.S. ambassador.
So is this a rare transition coup for the Trump team, perfectly timed to pour oil on the troubled waters of U.S.-China relations?
Maybe so. But it is too early to know if Branstad will be able serve as an effective ambassador in a relationship Trump made highly contentious not just in taking a call from Taipei but throughout his presidential campaign. Precisely because Trump has made such a big deal out of China's economic rivalry with the U.S., it is very likely relations with Beijing will be handled out of the top echelons of the State Department if not the White House itself. More than likely, the avuncular Branstad will just be the messenger and hand-holder in Beijing, and if things go way south in the relationship, as they well could, the ambassador's friendship with Xi will become, with all due respect to Iowa's fine pork products, like lipstick on a pig.
Branstad has certainly earned the trust of the president-elect. Though not a Trump backer during the Iowa caucus run-up (he did break his neutrality to attack Ted Cruz's less-than-robust support for ethanol subsidies), he became very enthusiastic for the mogul after he won the GOP nomination. It probably did not hurt that his son, an ethanol lobbyist, ran Trump's general-election campaign in Iowa. And while it may have been due more to demographics than any state party effort, Iowa turned bright red on November 8, with Trump winning a state Obama carried twice by nearly ten points.
What you have to wonder about now are Branstad's own motivations in taking this perilous job. Sure, after spending 21 of his 70 years on Earth as governor of Iowa, he may regard the exotic posting as the capstone of his career and a big change of pace. And, yes, by vacating the governor's office he will be able to elevate his protégé, Lieutenant Governor Kim Reynolds, and perhaps enable her to avoid a tough primary in 2018.
But giving the potentially central nature of the U.S.-China bilateral relationship to the future of the world, it is not clear Branstad knows exactly what he is getting into. He does not strike you as a deep geopolitical thinker. He could wind up resembling the late Robert Strauss, who was sent by George H.W. Bush to Moscow to cut oil deals literally weeks before all hell broke loose and the USSR fell apart. Maybe he (and we) will get lucky and Branstad will spend his time in Beijing happily hustling agricultural exports and tourism opportunities. But he could simply become the bland, friendly face of an administration at war with his hosts.