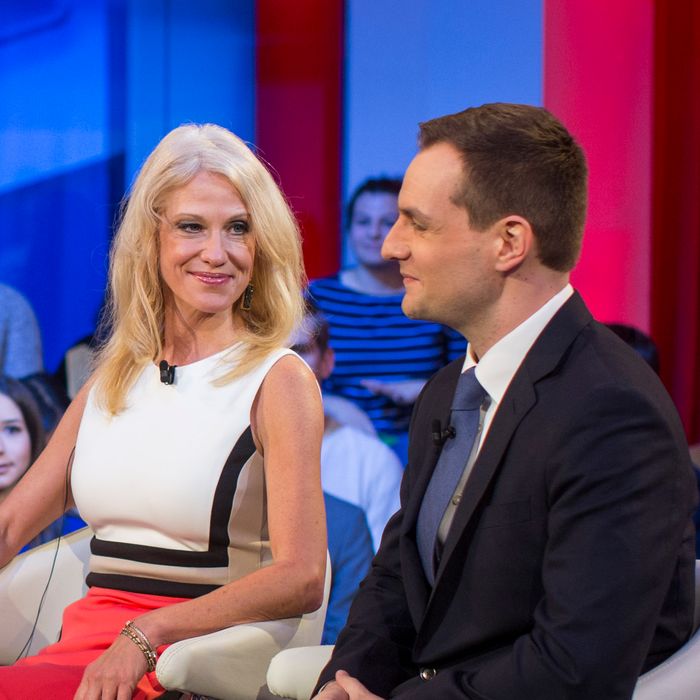 Make American Untethered From Reality Again.
Photo: Scott Eisen/Getty Images
There are a lot of theories on why Hillary Clinton lost the election, but in campaign postmortems on Thursday, the Trump team offered the most mind-bending explanation of them all: The Clinton campaign was done in by its insistence on operating in a world in which there are objective facts. The Trump team felt no such compunction, and as campaign manager Kellyanne Conway repeatedly declared during a combative event at Harvard University's Kennedy School of Government on Thursday, "We won."
After every presidential election since 1972, top aides from both campaigns gather at Harvard's Institute of Politics to discuss their experience of the campaign for posterity. Usually the opposing teams are civil, but this year the event devolved into shouting, cross-talk, and nasty accusations.
One of the angriest exchanges came when someone praised Trump campaign CEO Steve Bannon, who was not present. "If providing a platform for white supremacists makes me a brilliant tactician, I am proud to have lost," said Clinton communications director Jennifer Palmieri. "I would rather lose than win the way you guys did."

Conway said she was insulted by the suggestion that she would run a racist operation. "Do you think you could have just had a decent message for white, working-class voters?" she asked. "How about, it's Hillary Clinton, she doesn't connect with people? How about, they have nothing in common with her? How about, she doesn't have an economic message?"
It's unclear what future generations will draw from that, but former Trump campaign manager Corey Lewandowski offered a criticism of the press that shed some light on Trump's America.
"This is the problem with the media. You guys took everything that Donald Trump said so literally," Lewandowski said. "The American people didn't. They understood it. They understood that sometimes — when you have a conversation with people, whether it's around the dinner table or at a bar — you're going to say things, and sometimes you don't have all the facts to back it up."
Lewandowski wasn't the only person on the campaign who found it strange that the media expected remarks made by a major presidential candidate to have some tie to reality. In an unrelated interview with the Post earlier in the day, Trump told the paper that he decided to pursue a deal to save U.S. jobs at the Carrier plant in Indiana when he realized that some people took his "nice-sounding populist baloney" seriously, as Eric Levitz put it. Per the Post:
Trump said he called up Gregory Hayes, chief executive of Carrier's parent company, United Technologies, after watching a nightly news report about Trump's campaign promise to keep the plant open. Trump said at first that he did not recall making the statement, then said he had not intended it to be taken literally. But the broadcast moved him to take action, he said.

"I said, Greg, you gotta help us out here. You gotta do something," Trump recalled Thursday.
Trump supporter and CNN political commentator Scottie Nell Hughes laid out the campaign's worldview in another election analysis on NPR's "The Diane Rehm Show":
One thing that has been interesting this entire campaign season to watch is that people that say facts are facts, they're not really facts. Everybody has a way, it's kind of like looking at ratings or looking at a glass of half-full water. Everybody has a way of interpreting them to be the truth or not true.
For example, take Trump's tweet in which he claims he "won the popular vote if you deduct the millions of people who voted illegally," and his completely illogical attack on a reporter who pointed out that there are absolutely no facts to back that up. Hughes said:
And so Mr. Trump's tweet amongst a certain crowd, a large — a large part of the population, are truth. When he says that millions of people illegally voted, he has some — in his — amongst him and his supporters, and people believe they have facts to back that up. Those that do not like Mr. Trump, they say that those are lies, and there's no facts to back it up. So …
"There's no such thing, unfortunately, anymore as facts," she concluded.
If you feel like you just got very high and woke up during the last half hour of Doctor Strange, you're not alone. Many people are still having trouble adjusting to this world in which lies don't exist, or at least, have no consequences.
For instance, at one point during the Harvard event, Conway accused the Clinton staffers of being sore losers. "Guys, I can tell you are angry, but wow," she said. "Hashtag he's your president. How's that? Will you ever accept the election results? Will you tell your protesters that he's their president, too?"
But what if Trump isn't our president? That's just like, your opinion, man.