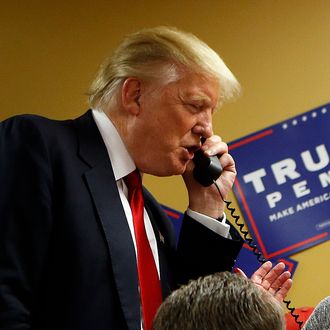 "That's right, I inexplicably did no prep for this sensitive phone call."
Photo: Brian Blanco/Getty Images
Until now, Donald Trump's decision to forgo the customary State Department briefings before speaking to world leaders had sparked confusion and mild breaches of protocol. But his apparent lack of preparation before a call on Wednesday may have shifted the United States' relationship with two key countries — and both have nuclear weapons.
If a readout released by Pakistan's Press Information Bureau is to be believed, the president-elect gushed about Pakistani Prime Minister Muhammad Nawaz Sharif on the call, and offered to visit the nation. Here's the full text:
Prime Minister Muhammad Nawaz Sharif called President-elect USA Donald Trump and felicitated him on his victory. President Trump said Prime Minister Nawaz Sharif you have a very good reputation. You are a terrific guy. You are doing amazing work which is visible in every way. I am looking forward to see you soon. As I am talking to you Prime Minister, I feel I am talking to a person I have known for long. Your country is amazing with tremendous opportunities. Pakistanis are one of the most intelligent people. I am ready and willing to play any role that you want me to play to address and find solutions to the outstanding problems. It will be an honor and I will personally do it. Feel free to call me any time even before 20th January that is before I assume my office.

On being invited to visit Pakistan by the Prime Minister, Mr. Trump said that he would love to come to a fantastic country, fantastic place of fantastic people. Please convey to the Pakistani people that they are amazing and all Pakistanis I have known are exceptional people, said Mr. Donald Trump.
Trump's office put out a statement saying they "had a productive conversation about how the United States and Pakistan will have a strong working relationship in the future." However, it would not confirm whether Pakistan's account of the conversation was correct.
Calling Pakistan "fantastic" would be quite the turnaround for Trump, since he tweeted this in 2012:
During the campaign, Trump also courted Hindu-Americans by promising that India and the U.S. would be "best friends" under the Trump administration. "There won't be any relationship more important to us," he said.
But Trump contradicting himself once again is the least concerning thing about the call. As Charles Tiefer, a professor at the University of Baltimore School of Law, wrote for Forbes, the readout suggests that Trump really should have chatted with the State Department before calling Sharif.
… he shows no awareness that the American military is enraged with Pakistan for how it props up forces in Afghanistan — the Haqqani network — that kill American soldiers. He probably doesn't know.

Nor does he show awareness that President Obama and Prime Minister Modi of India had reached agreement on the important point of joint condemnation of Islamist terrorists based in Pakistan. He probably doesn't know.

Nor does he show awareness that there has been delicate but real tension between Obama and Pakistan over its expanding armory of nuclear weapons. He does not show awareness that Pakistan, this year, has moved toward distributing tactical nuclear weapons to its army, a step that puts in jeopardy the very fabric of nuclear peace in the subcontinent. He probably doesn't know.
Trump also appeared to make another casual offer to mediate the dispute between India and Pakistan over Kashmir, which did not go over well in India the first time he mentioned it.
Forget keeping the president-elect off Twitter — can someone confiscate his phone?