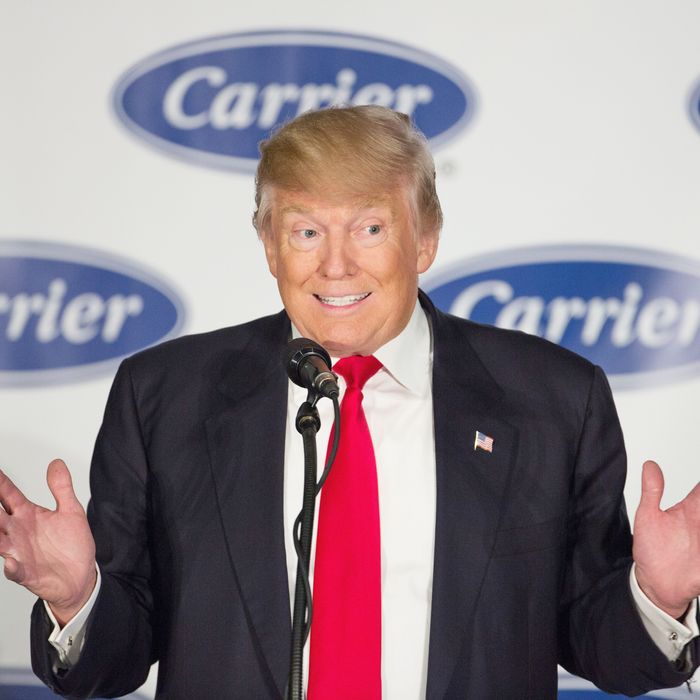 Good deal.
Photo: Tasos Katopodis/Getty Images
Donald Trump campaigned as an economic populist — one who would stop Wall Street from "getting away with murder," protect American workers, defend Social Security and Medicare, and "drain the swamp" of special interests.
Since winning election, he's picked one of the nation's leading proponents of Medicare privatization to head the Department of Health and Human Services; a former Goldman Sachs partner to lead Treasury; a billionaire complicit in a worker-killing mine disaster to manage the Commerce Department; and is eyeing a staunch opponent of raising the minimum wage to head the Labor Department. Meanwhile, he has signaled his intention to let investment advisers rip off retirees again and allow Congress to take guaranteed overtime pay away from millions of workers.
But he also convinced an HVAC company to move only one of its two Indiana-based plants to Mexico, in exchange for $7 million in tax breaks. And then posed for a lot of photographs in front of the plant that's staying.
Now, voters from across the political spectrum are impressed with the sincerity of the president-elect's populism.
Sixty percent of voters — including 40 percent of Democrats, 54 percent of independents, and 87 percent of Republicans — say that Carrier's decision to keep one of its plants in Indiana has given them a "more favorable view" of Trump, according to a new poll from Politico/Morning Consult.
At first blush, those numbers may have Democrats feeling more than a little disconcerted. One source of hope for the president-elect's opponent lies in the notion that he will eventually be forced to either betray his party's conservative leadership — or else his Rust Belt base — on matters of economic policy.
But what if Trump has found a way to have his working-class swing voters and fleece them, too? What if, by performing the occasional, highly visible act of protection on behalf of hundreds of workers, he's able to camouflage regressive federal policies that disadvantage millions of them?
This is a reasonable concern. But the poll's other findings may assuage it: While voters tended to approve of Trump's deal with Carrier when pollsters asked, only 24 percent of respondents said they had heard "a lot" about it, while 25 percent said they weren't aware of the news at all until Morning Consult gave them a ring.
What's more, the news did not produce a statistically significant change in Trump's overall approval rating. After the Carrier deal, 48 percent of Americans view Trump favorably, while 47 percent view him unfavorably. Before the deal, those figures were both 46 percent.
In other words, the Carrier deal appears to have made Democrats view Trump "more favorably," in the same sense that learning Bashar al-Assad is a big fan of Electric Light Orchestra might make an ELO-loving human-rights activist view the Syrian dictator "more favorably" (dude's still a monster, but one who isn't wrong about everything).
And a separate YouGov poll released Monday found that 50 percent of all Americans disapprove of Trump, while just 44 percent view him favorably. That actually marks an improvement for Trump in YouGov's polling, but still makes him the least popular president-elect in modern memory. And nearly half the country believes that its next president is "racist."
So, in the eyes of a majority of Americans, the Carrier deal is a winner. But the guy who negotiated it still isn't.