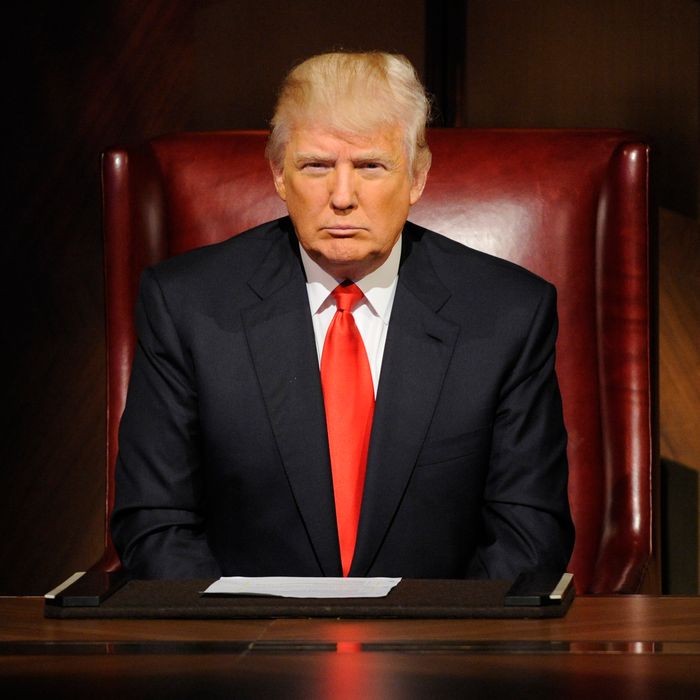 Trump on The Apprentice, where his hires were slightly less consequential.
Photo: Virginia Sherwood/NBC/Getty Images
Donald Trump's list of candidates for secretary of State keeps growing. This week the president-elect is expected to meet with ExxonMobil CEO Rex Tillerson and retired Navy Admiral James Stavridis, as The Apprentice: Secretary of State rolls into another week.
As of last week, Trump was reportedly considering Mitt Romney, Rudy Giuliani, former General David Petraeus, and Senator Bob Corker for the job. But unlike Bret Michaels and Arsenio Hall, none of those men have heard Trump say, "You're hired." And so the interviews will continue as he waits for a candidate who blows him away. "There's got to be someone out there that can dazzle and wow. I just don't think we've found that person," a "transition official" told Politico.
Finding the right person for the job isn't the only reason to keep the search going. As one Republican strategist told Politico, the parade of qualified officials eager to interview is making Trump look good. It also gives him a chance to appear magnanimous by inviting Romney over for frogs' legs.
"It should inspire confidence that Donald Trump is open to a broad pool of candidates for secretary of state from all parts of the process, from the military, business, elected officials, even rivals," said Alex Castellanos, a Republican strategist who worked for a pro-Trump super PAC. "Some people may not have expected for Donald Trump to be this open to whatever's best for the country."
Trump's dissatisfaction with his current choices has led to the scheduling of this week's interviews with Tillerson and Stavridis. Trump likes Tillerson because, like the president-elect, he is a businessman who makes deals. Meanwhile Stavridis, the dean of the Fletcher School of Law and Diplomacy at Tufts, is a Trump critic who was on Hillary Clinton's VP list and once called out Trump's "bromance" with Vladimir Putin. His appeal to Trump is less obvious.
Other names that have been bandied about to lead the State Department are former U.N. ambassador John Bolton and California congressman Dana Rohrabacher. Politico says those two men will likely get jobs as top deputies to the winner of this reality show.
Before the week's over there might even be some new contestants. Former Utah governor Jon Huntsman is reportedly in the running despite calling on Trump to drop out of the race just two months ago. The one-time ambassador to China was quick to praise Trump's phone call with Taiwan's president Tsai Ing-wen over the weekend, calling it "shrewd." Lastly, there's West Virginia senator Joe Manchin, a Democrat who is also on Trump's shortlist for Energy Secretary.