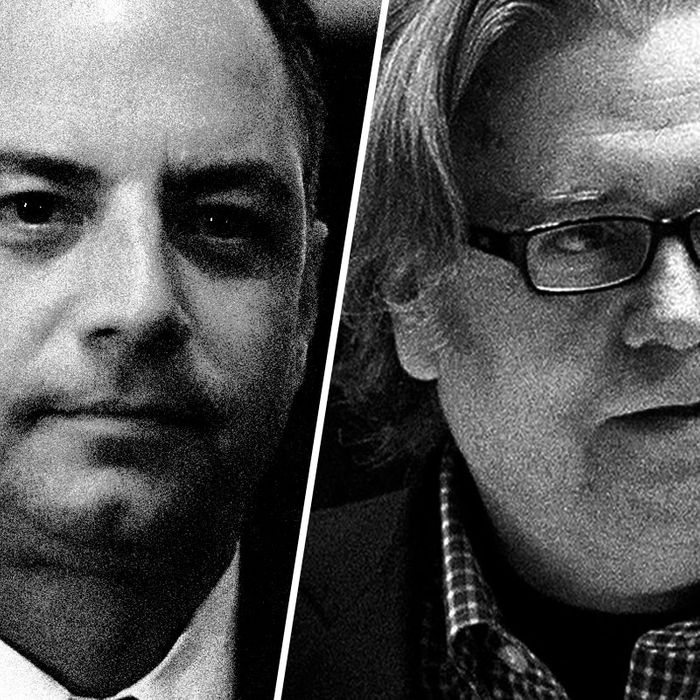 Who does Trump listen to more?
Photo: Getty Images
As the least experienced, least ideological, and therefore perhaps most malleable president-elect in history prepares to take office, all eyes are on who is influencing his decisions. And so far, Donald Trump's administration is shaping up to be like his campaign: full of clashing egos and agendas.
According to interviews with seven transition officials and senior Republicans in recent days, the question of whether senior counselor and chief strategist Steve Bannon or chief of staff Reince Priebus — represented by Trump as "equal partners" in the White House — has more power is one that is being widely discussed in Trumpworld. "In this administration, titles will not matter," one transition staffer said. "It's like Game of Thrones." And the outcome is not simply about which personality gets pride of place but which worldview determines the Trump White House's approach to policy: the nationalist-populist agenda of Bannon and other former campaign staffers, or the more traditional Republican governance advocated by Priebus and Vice-President-elect Mike Pence.
Sources point to Trump's early appointments of hard-liners Jeff Sessions for attorney general and Mike Flynn for national security adviser as evidence of Bannon's influence. But Priebus has flexed his muscle in more recent appointments such as Betsy DeVos for education secretary and RNC donors Wilbur Ross at Commerce and Steve Mnuchin at Treasury. Sources describe the dynamic between Bannon and Priebus as respectful, but competitive. "It's not hand-to-hand combat," one senior Republican said. "But they do have different worldviews."
Some Trump advisers are dismayed by Priebus's influence because they question the Washington insider's loyalty to the president-elect. Three sources told me that shortly after the Access Hollywood tape leaked in early October, Priebus went to Trump's penthouse and advised the candidate to get out of the race. Priebus told Trump that if he didn't, he "will go down with a worse election loss than Barry Goldwater's," a person briefed on the conversation said.
The Priebus–Bannon power struggle is playing out most prominently in Trump's search for a secretary of State. According to sources, Bannon has advocated for naming Rudy Giuliani, while Priebus has made the case for a more moderate choice. When concerns were raised about Giuliani's business conflicts hurting his chances to be confirmed by the Senate, Bannon lobbied Trump not to settle for Mitt Romney and to expand the search for new candidates to include ExxonMobil CEO Rex Tillerson, former U.N. Ambassador John Bolton, and Senator Bob Corker, a source close to Bannon told me.
Trump campaign staffers are also angry that Priebus is attempting to staff the West Wing with mainstream GOP officials rather than Trump loyalists. According to sources, Priebus wants Trump to appoint RNC chief strategist Sean Spicer to serve as White House press secretary rather than Kellyanne Conway (who turned down the job, sources say); he is also promoting RNC chief of staff Katie Walsh for deputy chief of staff, and former George W. Bush deputy chief of staff Joe Hagin for deputy chief for operations. "If Priebus controls the schedule and the message, what does Bannon actually control?" one Bannon loyalist asked.
According to a senior transition official, Trump's son-in-law, Jared Kushner, is supportive of Priebus's staff choices because they bring a level of professionalism to the chaotic Trump team. But some at Trump Tower are alarmed that Priebus has so far not offered jobs to a number of Trump loyalists who may have been expecting them, including Michael Cohen, Corey Lewandowski, Hope Hicks, and Dave Bossie. "We didn't fight two years against the swamp only to bring the swamp into the White House," one senior Trump adviser told me. Sources said Trump himself may not be aware that members of his original team haven't been offered jobs. With only about 40 West Wing positions available, Priebus is moving quickly to fill them with his choices. This may be one of the ways in which his knowledge of how the West Wing works puts him at an advantage. (For his part, Cohen describes that characterization as "inaccurate": "Trump is the most loyal person I know," he wrote to New York in an email. "He is currently filling certain key roles and upon completion, will concentrate on offering important roles to those who have been with him since the beginning of the campaign.")
Conway's relationship with Priebus has become particularly strained in recent days. According to a source, she blamed Priebus for a leak to MSNBC's Joe Scarborough that claimed Trump was "furious" with her for going public with her critiques of Romney. Conway told me she cleared her request to speak out against Romney with Trump before going on television. Trump, perhaps still hoping to convince Conway to take a communications job at the White House, allowed it.
One Trump adviser speculated that Bannon may be content to let Priebus take control now because Bannon is hoping to play a longer game. Given Trump's history of turning on those closest to him (Corey Lewandowski, Paul Manafort), it may be good strategy to lay low and avoid blame for any problems with the transition. There is sure to be dysfunction — not least because of this very power struggle. "When you have two people in charge of an organization," said a Trump adviser, "it's hard to be successful." 
This post has been updated with comments from Michael Cohen.