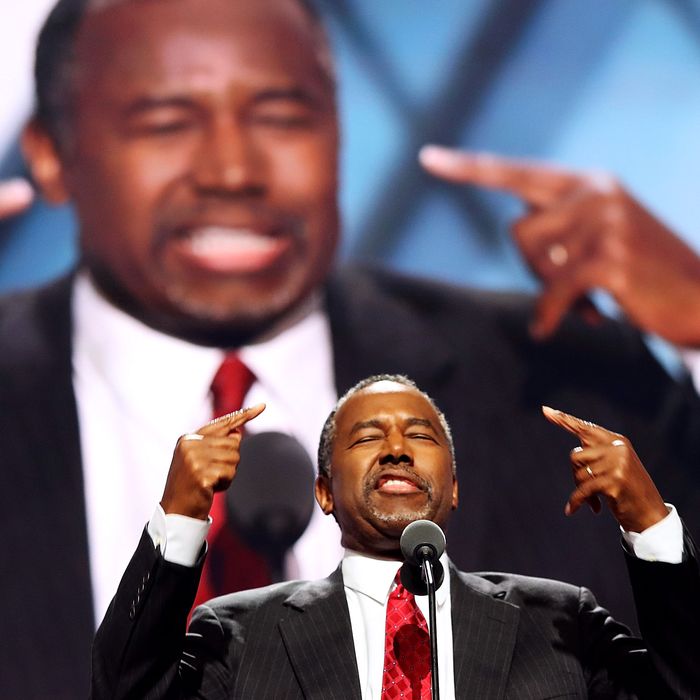 Ben Carson didn't grow up in public housing, but he did grow up in a house.
Photo: Joe Raedle/Getty Images
The argument that Ben Carson is qualified to serve as HUD Secretary because he once lived in public housing never made any sense. He's also been on a debate stage, but there's not a middle school in the country that would hire him to lead its debate team. Still, supporters of his, including Mike Huckabee, trumpeted the fact. And now we know it's not a fact at all.
Carson's spokesman Armstrong Williams, who had previously told the New York Times that his boss grew up in public housing, backtracked Monday night, leading the paper to publish a correction.
"Using information from a close friend of Ben Carson, the nominee for housing secretary, an earlier version of this article misstated that Mr. Carson spent part of his childhood in public housing. The friend, Armstrong Williams, said Monday that Mr. Carson had never lived in government housing," the Times wrote.
As CNN notes, Carson has previously said he lived in the "ghetto" and in "dire poverty," but his mother refused to accept welfare. "I grew up in Detroit, and I grew up in Boston. In Boston, we lived in the ghetto. There were a lot of violent episodes there. There were rats, there were roaches. It was dire poverty," he said in February.