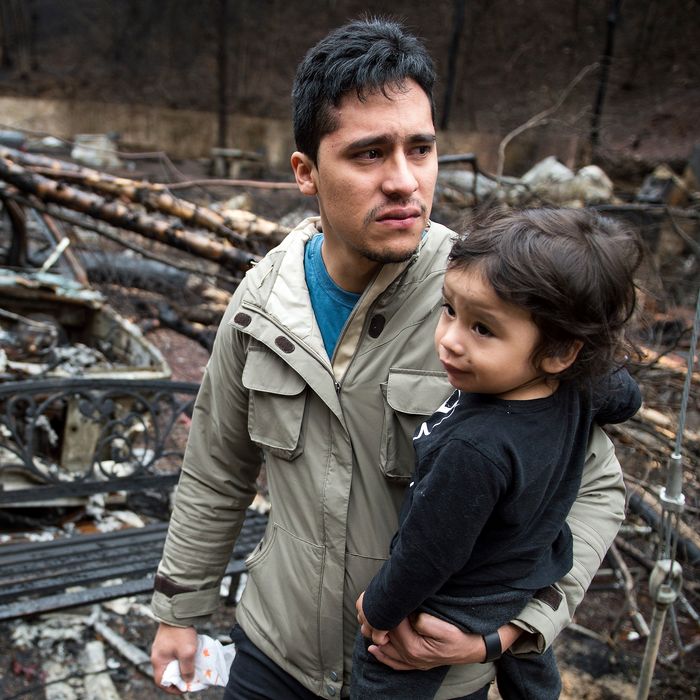 Eastern Tennessee has been decimated.
Photo: Andrew Nelles/AP
The Tennessee Bureau of Investigation announced on Wednesday that two juveniles have been charged with arson in relation to the deadly wildfires that tore through Eastern Tennessee over the last few weeks, killing 14 people and injuring 134.
The charges come just a week after authorities announced that the wildfires were likely started intentionally.
Fires have ravaged the area in and around the Great Smoky Mountains National Park, decimating Sevier County, destroying nearly 2,000 structures, and even threatening Dolly Parton's theme park Dollywood. The wildfire is the country's deadliest blaze since 2013, when 19 firefighters were killed fighting a similar inferno in Arizona.
The two juveniles were arrested after a joint investigation by the National Park Service, the U.S. Bureau of Alcohol, Tobacco, Firearms and Explosives, and the Sevier County Sheriff's Office. Authorities will not release details on the two suspects who are both underage, other than the fact that they are from Tennessee, though neither are local to the area affected by the fire.
Both have been charged with aggravated arson and are being held at a juvenile detention center in Sevier County, near the epicenter of the fires they stand accused of starting.
According to Fourth District Attorney General James Dunn, the state may seek further charges against the pair, and they have not ruled out the possibility of transferring them to adult court.
The Washington Post interviewed one woman, Katerina Mills, 45, who lost her home in the blaze. "I would love to see them tried as adults. Yes ma'am," she said. "I do feel sorry for the parents. But no, I do not feel sorry for those kids."
So far, the fire has burned more than 17,000 acres, and despite recent rains, firefighters still have it only 64 percent contained.