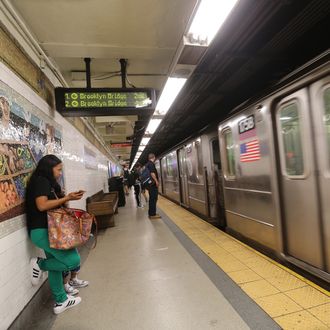 Photo: Waring Abbott/Getty Images
A subway mishap turned bloody Thursday night, after two people were injured — including one who nearly had his ear chopped off — in a fight over a train seat.
The fracas began on an an uptown 6 train at around 8:45 p.m. Thursday night. A 57-year-old man sat down and grazed the leg of another man, reports DNAinfo. An argument then broke out over the seat space, which spilled onto the platform at the 110th Street Station at Lexington Avenue. That's when things turned gory: The suspects — a man and his friend, believed to be in their 20s — attacked the leg grazer and his friend, a 35-year-old man. At least one of the suspects had a sharp object, and slashed the 35-year-old across the face, slicing part of his ear lobe, which needed to be reattached at the hospital. The suspects also pepper-sprayed the injured man. "Blood all over, so I didn't really know," one witness told CBS 2, "I knew his ear was like leaking, halfway off."
The 57-year-old was beaten up, punched over and over in the face, and also blasted with pepper spray.
Surveillance footage captured some of the brawl, which left blood spattered across the station. A few brave bystanders tried to prevent the suspects from getting away, according to witnesses, but the assailants managed to flee. Police are searching for the attackers.