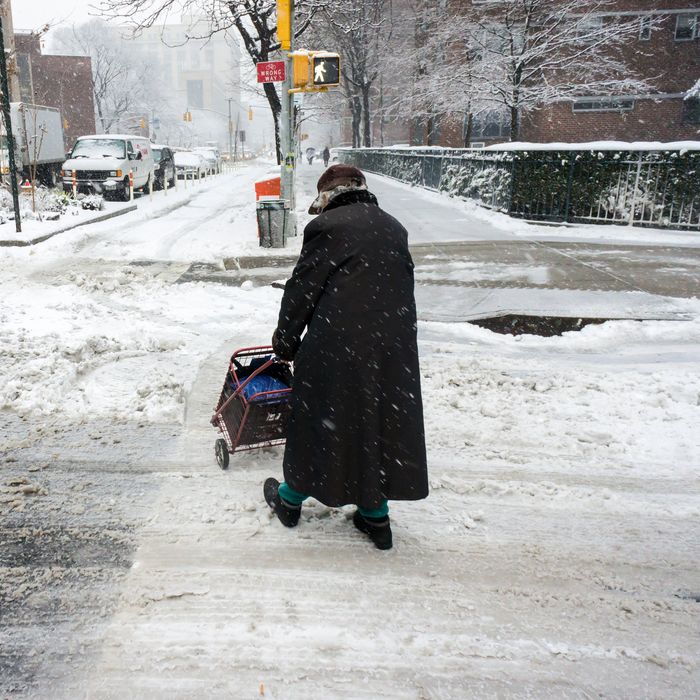 Social insecurity.
Photo: Richard B. Levine/Corbis via Getty Images
America is headed for a retirement crisis. As the baby boomers clock out for good, many will find themselves unable to pay for their golden years. The reduction of Social Security benefits (via the increase in the retirement age), the death of defined-benefit pensions, the growing life expectancy of those who make it to 65, and years of extremely low interest rates have all conspired to leave America's seniors in desperate straits.
And this week, the Government Accountability Office highlighted another, oft-ignored headwind that retirees will face: the burden of unpaid student debt.
Last year, the government took $171 million out of the Social Security checks of 114,000 Americans age 50 and over in order to collect on unpaid student-loan debt. Most of the indebted were receiving Social Security disability payments; more than 67,000 of them were left with benefits lower than the poverty line.
And their ranks are set to increase dramatically in the coming years: Roughly 7 million Americans age 50 and over owe $205 billion in federal student-loan debt — and 1 in 3 is in default.
While most of these retirees are paying off their own education debts, a good number were driven into debt by our contemporary crisis of college affordability, having taken out loans on behalf of their children.
The GAO report was produced at the request of Democratic senators Elizabeth Warren and Claire McCaskill. Warren has co-sponsored legislation that would exempt Social Security benefits from garnishment by the government. At present, a Social Security recipient can lose no more than 15 percent of his or her check to debt collection, but a cut of that size is more than enough to condemn many to financial desperation.
And while citizens who can prove themselves "totally and permanently disabled" can have their student debt erased, even those who fit that extreme classification often have their checks garnished, as they are unaware of their entitlement to debt forgiveness.
The overwhelming majority of America's $1.3 trillion in student debt is held by those under 50. Which means that, barring reform, unpaid student debt is likely to claim a larger and larger share of retirees' benefits in the coming decades.
Still, there are alternatives to providing relief for borrowers or higher benefits for Social Security recipients: We can always hope that, by the time the millennial generation is old enough to throw in the towel, their retirement crisis will have been averted by climate change, a global pandemic, or nuclear war.