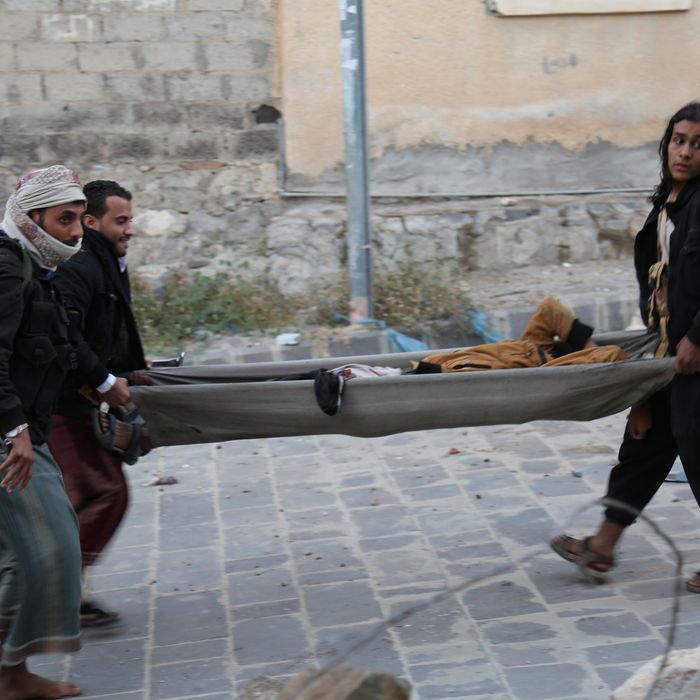 More than 10,000 people have been killed in Yemen's civil war.
Photo: Anadolu Agency/Getty Images
Tensions between the United States and Saudi Arabia, its closest Arab ally, show no signs of easing, especially following Tuesday's announcement that the White House had blocked a major weapons sale to the Kingdom over concerns about its targeting of civilians in Yemen.
As the only military power fighting in the country's civil war with an air force, Saudi Arabia has been accused of routinely targeting civilians as well as killing innocents as collateral damage in air strikes against Yemeni Houthi insurgents.
Raytheon had reportedly been pushing hard for the sale of 16,000 guided munitions kits valued at $350 million to Saudi Arabia, going so far as to have the company's CEO Thomas Kennedy call Secretary of State John Kerry and National Security Adviser Susan Rice. But ultimately the administration quashed the deal, responding to growing criticism following recent bloody air strikes that made headlines around the world.
The move was the second recent decision that put a strain on the countries' alliance; earlier this year, the United States moved to stop the sale of cluster weapons to the Saudis.
Tuesday's announcement was especially embarrassing for the Kingdom. The weapons in question were kits to transform so-called dumb bombs into smart bombs, making it possible to aim them more accurately. By calling off the sale, the United States is implying that they feel that growing civilian deaths are not the fault of mistakes caused by bad aim, but a product of the Saudi air force actively targeting civilians, something the government in Saudi Arabia has vociferously denied.
Discussing the recent decision and the civil war in Yemen in general, White House Press Secretary Josh Earnest did not mince his words, saying that the Obama administration has "long expressed some very significant concerns about the high rate of civilian casualties."
And the White House isn't just stopping weapons sales. It will also cut back on intelligence sharing with Saudi Arabia out of fears that intelligence has been used to plan air strikes.
That said, the Pentagon has confirmed that the United States will continue to share intelligence when it comes to border security, and will even continue to train the pilots who are pulling the trigger in Yemen, claiming that U.S. training would help them avoid civilian casualties. And other planned arms deals look likely to go through, including a multi-billion-dollar sale of military helicopters.
The conflict in Yemen has ballooned into a full-blown humanitarian catastrophe. The United Nations estimates that more than 10,000 people have been killed and Yemenis who have survived the war so far are now facing widespread food shortages.