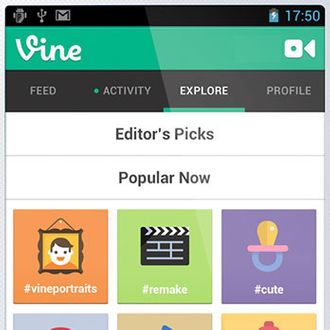 Vine is getting a new life as a camera app.
Photo: Vine
Almost two months after it was revealed that the Vine app would be "discontinued," Twitter has announced it will not be shelving the six-second video app entirely. Instead, Vine will get a second life as a "pared-down" camera app, the company announced in a blog post. Users will be able to use the camera app to create the same kind of video content that brought us Eyebrows on Fleek and Squiward Dabbing and share them via other platforms, like Vine's parent company Twitter.
According to the blog post, Vine users will be able to download all of their Vines, and existing videos from the happier days of Vine will live on anywhere they are embedded and remain online on Vine's website. "In the coming days we're also rolling out a way to make it easy for your Vine followers to follow you on Twitter," the company noted.
While it's not anywhere near as good as having an entire social network devoted to creating, sharing, and mindlessly looping weird and wonderful short video, the new app will allow people to continue making that type of content with the same ease of use that made Vine so great in the first place. Something Twitter might have considered telling people back in October before we all wrote obituaries and had to feel genuine emotions about losing an app.