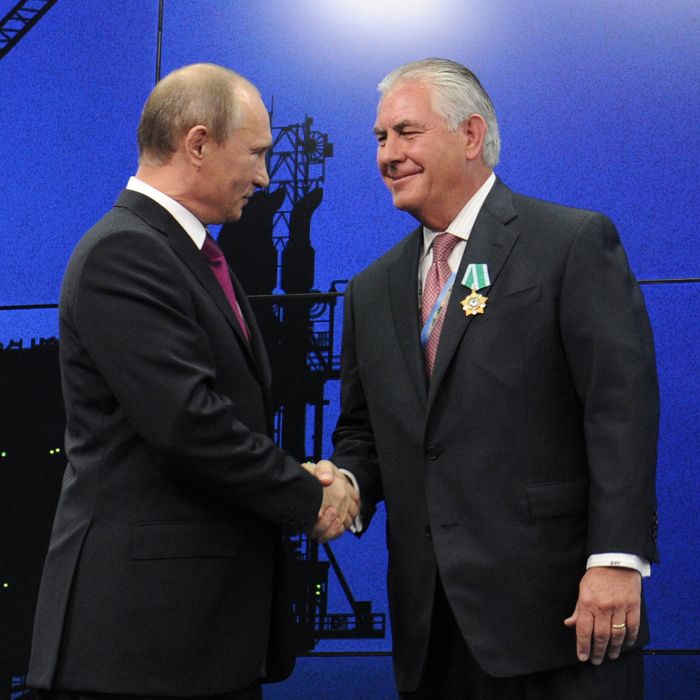 Would-be secretary of State Rex Tillerson with a good friend.
Photo: Michael Klimentyev/AFP/Getty Images
Last Friday, the Washington Post reported that the CIA believes Russia interfered in the 2016 election with the intention of aiding Donald Trump's candidacy. Less than 24 hours later, Trump's team leaked word that one of America's leading opponents of sanctions against Russia would be the president-elect's choice for secretary of State.
On the subject of U.S. policy toward Russia, Rex Tillerson's conflict of interest is as vast as Siberia. The ExxonMobil CEO owns $218 million in his company's stock — and $117 million of that stock isn't scheduled to vest for years, which means Tillerson can't easily sell off his shares.
If the United States lifts its current sanctions on Russia, those shares will almost certainly increase in value.
In the early years of this decade, Exxon made a big play for Russia's hardest-to-reach fossil fuels — the company inked deals to explore the Black Sea, frack the gas out of western Siberia, and drill for oil in the Arctic.
That last one's a biggie: The Arctic is home to one of the largest untapped oil resources on the face of the (rapidly warming) Earth.
Together, these investments were going to help Exxon make up for its failure to capitalize on the U.S. fracking boom. And they were just as dear to Putin's Russia, as Vox's Brad Plumer explains:
[Russia] is currently one of the world's largest producers of crude, pumping out 10 million barrels per day (about 10 percent of global supply). But its older fields are in decline, and the country is unlikely to sustain current levels of production past 2020 unless it develops its untapped fields, a recent report from the Wilson Center found. Given that oil and tax revenues fund half of Russia's national budget, a long-term decline would have severe repercussions for the country, perhaps even risking political instability.

To avoid that fate, Russia desperately needs to bring back Western companies with the expertise to drill in unconventional areas. "If Russia could do this all by itself, without Western help, they already would've done it," says Edward Chow, a longtime industry veteran who is now an energy policy expert at the Center for Strategic and International Studies. "But they can't."
So, the table was set for Exxon to drill its way to a higher share price, while easing Russia's fiscal headaches in the process. Putin found this comity so heartwarming, he awarded Tillerson with Russia's "Order of Friendship" in 2013.
And then Putin annexed Crimea. And the U.S. put sanctions on Russia's oil and gas industry. And Exxon has been frozen out of its Arctic holdings for two years now.
During that time, Tillerson has frequently lobbied the White House in favor of lifting sanctions against Russia. He may soon, ostensibly, be in position to lobby himself on the matter. By all accounts, Russia is tickled pink.
There are a lot of reasons one might object to this state of affairs. The one most often cited on Capitol Hill involves the need to protect NATO allies against Putin's "expansionist" ambitions. If he isn't made to pay an ongoing economic price for his actions in Ukraine, what's to keep him from moving into the Baltics?
Separately, if Russia's interference in our election is (ostensibly) rewarded with a change in U.S. foreign policy that Putin deeply desires … what message will that send to other foreign states that know a hacker or two?
But the most compelling reason to support the continuation of sanctions against Russia may be the least discussed: At present, those sanctions are among the only (de facto) climate-change prevention measures that enjoy bipartisan support.
As Plumer notes, by some estimates, 20 percent of the world's undiscovered oil and natural gas lies buried in the Arctic. It will be very hard to meet the emissions goals set down in the Paris Agreement if those resources are fully exploited. And right now, the Republican Party's affinity for holding a tough line on Russia is the only thing standing between Exxon and Putin's vast reservoir of Arctic oil.
There are still plenty of reasonable arguments for lifting sanctions on Russia: Millions of ordinary Russians suffer from their impact on economic growth; political instability in a nation with a massive nuclear weapons arsenal is undesirable; friendly relations with Russia could, potentially, facilitate America's interests in other regions of the globe.
Still, when weighing our options, the opportunity to keep Arctic oil in the ground should have a place on the scales.