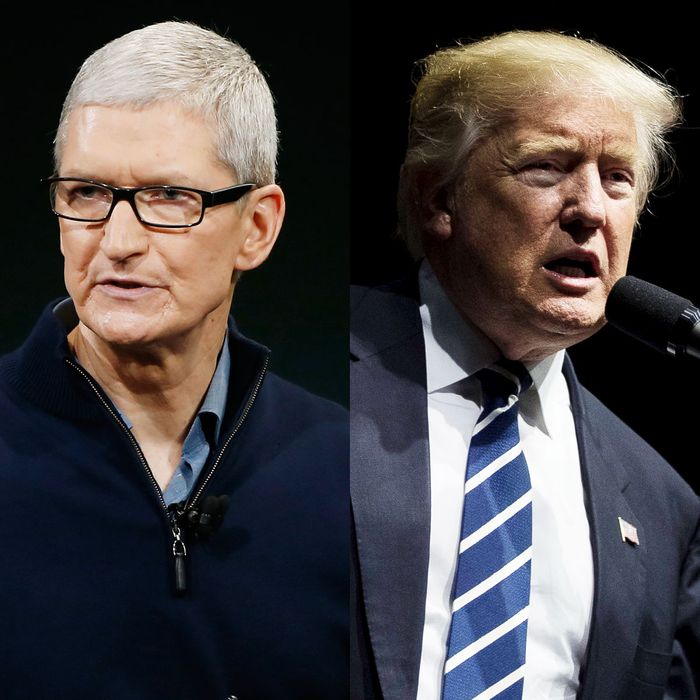 President-elect Donald Trump is planning to meet with tech industry leaders on Wednesday, the latest in a series of meetings in which famous people are photographed entering the lobby of Trump Tower, 20 minutes pass, and then Trump is photographed giving the thumbs-up.
The twist here is that unlike many of the sycophants, repentant #NeverTrumpers, and randos that Trump has been meeting with over the last few weeks, this group's relationship with Trump is, at best, ambivalent (Trump transition member Peter Thiel notwithstanding). Among the group meeting with him in Manhattan on Wednesday are, according to Recode, Alphabet CEO Larry Page and chairman Eric Schmidt, Apple CEO Tim Cook and Facebook COO Sheryl Sandberg, Microsoft CEO Satya Nadella, Cisco CEO Chuck Robbins, IBM CEO Ginni Rometty, Intel CEO Brian Krzanich, and Oracle CEO Safra Catz. Elon Musk was added to the list yesterday, and Amazon CEO Jeff Bezos — whom Trump has explicitly criticized for wielding the Washington Post against the Republican campaign — was also invited and is likely to attend.
It's a fascinating meeting in part because over the last eight years the tech industry has acted in many ways as an extension of the Obama administration — not just in the extralegal ways revealed by Edward Snowden's NSA leaks, but in its role as an economic powerhouse and center of innovation frequently pointed at by the president during his two terms. Obama has frequently pushed coding as an essential skill for young people to possess and held up those crazy dreamers in Silicon Valley as the future of American industry; he met regularly with the tech industry, which, in turn, donated substantial sums of money to Obama and the Democrats.
Trump's relationship with the tech industry is likely to be very different. On the issues Trump is most known for — limiting immigration and expanding manufacturing jobs — the tech industry stands in exact opposition. Getting Apple, for example, to move its manufacturing stateside would be costly on a number of levels. That the tech industry is even fielding calls from Trump shows slight capitulation, but it's unclear what lobbying will be done and which concessions will be made by either side. The last thing any of these companies wants is public castigation from the incoming president (though it's unclear what effect, if any, Trump's boycott of Apple earlier this year had on sales). One gets the sense of two dogs sniffing each other's butts for the first time.
The makeup of this group gives some indication of the tech-industry sector that Trump plans on making nice with: The guest list tends toward enterprise and infrastructure businesses rather than the more popular and visible consumer apps, like Snapchat, or, apparently, Twitter. (Leaders from both Airbnb and Uber were reportedly invited, but declined to attend). Enterprise leaders like IBM, Oracle, and Cisco have seen Trump deal with Carrier and SoftBank, and likely imagine that there is good publicity — if not tax breaks — to be had in meeting with the president-elect and making vague promises about jobs.
For more data-driven and consumer-facing companies, like Facebook and Google, the issue is national security and surveillance operations, more so than the economy or jobs. The Trump camp will probably press for access to their proprietary information. Trump himself might not have a clear understanding of how information technology works (yesterday morning on Twitter: "Unless you catch 'hackers' in the act, it is very hard to determine who was doing the hacking.") but he knows which companies he'll need to butter up (or alternatively, intimidate) to get what his national-security team is looking for.
At the end of the meeting, both sides will walk out with a slightly less fuzzy idea of the other. The tech guys will say that it was an interesting and fruitful discussion and they look forward to the future. Maybe Trump will get angry and fire off a tweet about fake news. Then, most of the executives will fly back to the West Coast, hoping that they don't hear from the White House for the foreseeable future.