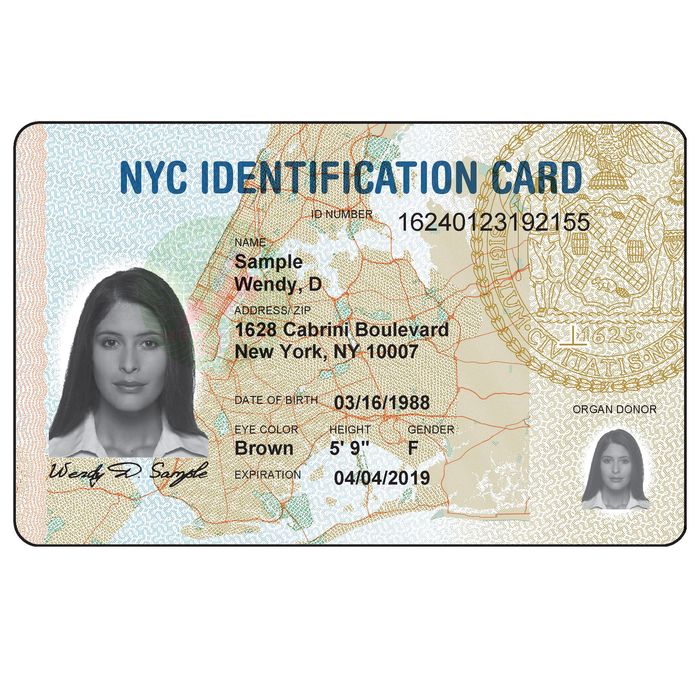 On a sweltering July afternoon a couple of years ago, Mayor Bill de Blasio relocated one of his normally staid bill-signing ceremonies from City Hall's blue room to the steps of the Brooklyn Public Library. Surrounded by cheering activists and elected officials, de Blasio marked one of the early triumphs of his soon-to-be tumultuous tenure: bringing a municipal identification-card program to New York City. Undocumented immigrants would finally have access to bank accounts and various city services. Urban liberalism was on the march.
If there were questions about the future of the program, known as IDNYC, they were quickly shooed away. "I do understand the theoretical argument about what some downsides might be, but I am much more focused on the here-and-now reality that hundreds of thousands of New Yorkers are suffering for lack of ID — that's the problem we have to solve," de Blasio said that day.
Two years later, theory is reality. Something that would have sounded like a fever dream on that bright summer morning is happening next month: Donald Trump will be sworn in as president of the United States after running a campaign rooted in promises to crack down on immigration and deport millions of unauthorized immigrants. This raises the very real possibility of one of those "downsides" that de Blasio vaguely gestured at: If Trump chooses to pursue deportations in New York City, data from the IDNYC program will offer federal agents a very convenient list of names and addresses of unauthorized immigrants.
"After the election, everything is up for grabs," said Van Tran, a Columbia University sociology professor who studies New York's immigrants. "I do think that we have to be extremely vigilant because it is possible. Some might say, 'Well, you know we're being paranoid in imagining the worst case scenarios' but my sense is actually, no, we aren't."
Some elected officials are worried. "IDNYC and DACA [Deferred Action for Childhood Arrivals] could conceivably have the same fate: Two programs intended to protect undocumented immigrants could have the ultimate effect of exposing them," said Councilman Ritchie Torres, a Bronx Democrat. "It's a cruel irony."
The law creating New York's identity card was not written totally without awareness of such a possibility — it contains a provision that would allow the city, at the end of this year, to destroy all the personal data collected under the program.
Right now though, there is a lot of uncertainty and anxiety about how City Hall will handle the situation. In the weeks following the presidential election, the de Blasio administration has appeared somewhat oblivious to the implications of a Trump presidency. Last month, during an address aimed at comforting his city, de Blasio urged New Yorkers to keep signing up for municipal IDs and promised to fight any federal attempt to seize documentation — perhaps indicating he doesn't want to operate a program without any record-keeping.
Why not just destroy the records, as the law allows? Storing data in the first place was a concession to the NYPD because of fears over fraud. It's unlikely de Blasio would have signed off on an IDNYC program without the police department's consent. Were de Blasio to purge the records, in accordance with the wishes of many progressives and local officials, he would be setting up a clash with a police department. The mayor has been generally deferential to the cops, and destroying the records would perhaps upset the delicately balanced relationship.
Conservatives in particular worry that operating IDNYC without proper record-keeping will create a grave security risk. Two Republican Assembly members, Nicole Malliotakis and Ron Castorina Jr., are threatening to sue the city if de Blasio decides to purge the records.
On the other hand, running an ID program without retaining documents wouldn't be unprecedented. San Francisco does it now, and de Blasio isn't ruling out that approach. "When it comes to keeping cardholder information secure and private, all options are on the table," said Rosemary Boeglin, a de Blasio spokeswoman.
The New York Civil Liberties Union, which opposed the 2014 legislation, has not sounded the alarm yet. In a statement, NYCLU executive director Donna Lieberman said she believes the records "will be destroyed" as the bill "originally intended."
The IDNYC database does not specify immigration status. More than 900,000 people have signed up for the cards, which provide benefits like discounts at museums and zoos, and many of them aren't immigrants. The Trump administration would have to sue for the information it wants, and the city's corporation counsel, as de Blasio noted last week, would fight the federal government in court.
Trump has said nothing publicly about the ID program, though he's savaged de Blasio on many occasions. After the two met at Trump Tower last month, de Blasio didn't explicitly say they discussed IDNYC. It's unlikely, given Trump's numerous priorities over the first few months — repealing Obamacare, building a border wall, overhauling the tax system — that his administration would attempt to obtain IDNYC data immediately. As with anything else pertaining to the most erratic president-elect in modern times, what Trump ultimately has planned is anyone's guess.
"Do any of us know what President-elect Trump is really going to do? No," said Jennifer Gordon, an immigration expert at Fordham Law School. "I would say in terms of his stated goals in the immigration arena, IDNYC is very low on the list."